A gluten-free, vegan, and sugar-free cookie that contains only five ingredients and comes together in minutes? Now that's a small miracle. Please don't be skeptical – while I tend to shy away from baked goods with too many x-free, y-free qualifications (because what the heck is in them to make them taste good?) I promise you these cookies are utterly delicious. And no nasty sugar substitutes, either. These cookies are 100% date-sweetened.
There is nothing like baking your first batch of cookies in a new apartment (I moved this weekend!) to really scream "home." That priceless cookie aroma wafting around my kitchen was just the thing to banish any lingering new-apartment smell – aka paint – for good. And then looking at my new  (and dare I say perfectly organized??) kitchen with racks of cookies cooling on the counter, I felt perfectly relaxed and oh so content. Yes, there were – and still are – boxes all over the living room – but they faded into the background as I grabbed a nice cold glass of almond milk and let myself be transported to warm, gooey, peanut-butter heaven.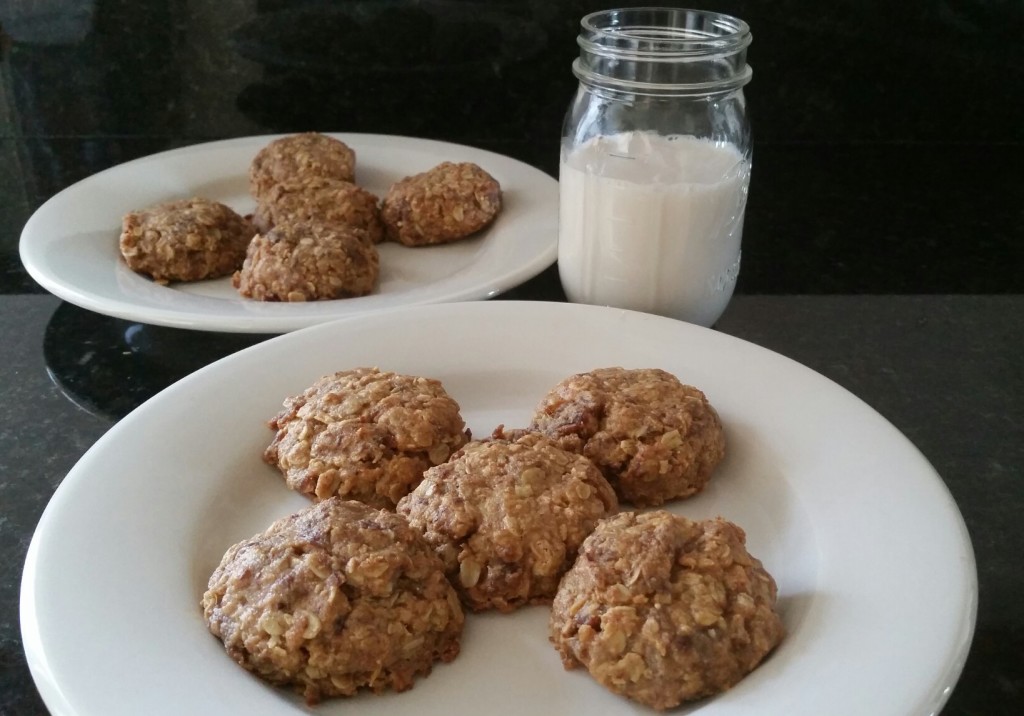 Now I know we all have our own cookie preferences, so let me be clear: these are not light and dainty. They are hearty, substantial, stick to the roof of your mouth style cookies that go amazingly with some milk or nut milk. They are also totally delicious completely on their own (sans the milk) and can pretty much be eaten at any time of day –  for snacking, dessert, or  even breakfast :p
A couple notes about the recipe:
-I normally buy freshly ground peanut butter in bulk (the kind that comes out of that nice big peanut machine at Whole Foods or other natural foods stores.) This means that the peanut butter I use in this recipe is literally just ground peanuts – no added oils, salt, or sugar. Freshly ground peanut butter has a very different consistency from jarred "creamy" peanut butter, so the two are not interchangeable in recipes. I did try making these with a jar of Whole Foods organic "creamy" peanut butter, and found that it works perfectly provided you triple the amount of oat flour. (This soaked up all the extra oil that was added to the jarred peanut butter.) I did not try this recipe with any other brands or types of jarred peanut butter so I can't guarantee that tripling the flour will work for all types of jarred peanut butter, but it will likely work for most brands of "creamy" jarred peanut butter.
As a general rule, if you want to use a different type of peanut butter, start with 1/8 cup of oat flour and then if the batter looks really loose, add some extra flour until the consistency looks better. Or you could just use the bulk freshly ground stuff like I do because it really is delicious and much healthier! Note: If you do use a jarred "creamy" peanut butter, keep in mind that the recipe may no longer be sugar-free. The Whole Foods brand I tested had some added sugar.
-Since it's summer, store these cookies in the fridge to avoid sticky messes. Then take them out and let them come to temperature before chowing down. You can totally eat them straight from the fridge if you can't wait and they will still be delicious – but you'll be enjoying something more akin to a dense breakfast bar than a melt-in-your-mouth cookie. I personally like them both ways, but the clear winner is the melt-in-your mouth cookie.
-Because of the high date content, please be careful when making/baking these cookies! Dates tend to burn easily. I find that these cookies take from 7-10 minutes to bake, depending on your oven. Check them after seven minutes and then give them two more minutes if they still seem a bit underdone. Keep in mind, however, that you should check the cookies for doneness by looking at the bottom of the cookie. If the bottom is nice and firm and darkened but the top is still a bit delicate, they are probably done. (The cookies may be a bit soft on top when you first pull them out of the oven but they'll firm up completely while cooling.) Let them stand until you can easily pick one up without worrying about it crumbling.
-If you form your cookies into rounds that are 2 inches wide and 1/2 an inch thick, you will end up with eight delectable cookies.
5-Ingredient Miracle Cookies
1/2 cup refined coconut oil (measured in solid form)
8.5 ounces medjool dates (about 15 medjool dates), pitted and chopped (weigh before pitting)
1 cup gluten-free rolled oats
1/2 cup freshly ground peanut butter (Make sure to read my note, above!)
1/8 cup gluten-free oat flour
Directions:
Line a sheet tray with parchment paper and preheat the oven to 350°.
Melt the coconut oil in a saucepan over medium-low heat. Add the chopped dates and stir until they have broken down into a paste, about 3-5 minutes. (Be careful not to let the oil get too hot or cook them for too long because dates burn easily!) Once you have a clump of malleable, pasty dates surrounded by a lot of coconut oil, it's time to add the oats. Stir well, spreading the date mixture around so that it evenly coats the oats. (I find a fork works best for this process – it may take a bit of elbow grease.) Remove from heat and stir in the peanut butter and oat flour. Let stand until cool enough to handle, then form into eight rounds, each two inches wide and 1/2 an inch thick. Bake for 7-10 minutes. Remove from the oven and let stand until completely firm. Enjoy!