By "Warm Mushroom Salad," I really mean "Warm Mushroom Salad with Sweet Tahini Drizzle, Fresh Parsley, and Feta Cheese." While that's a bit lengthy for a title, it is just right for a salad!
The way I prepared the mushrooms for this salad is probably my new favorite way to prepare mushrooms, period. They are meaty, juicy, tender, buttery, and oh so flavorful! Add in the freshness of the parsley and the tanginess of the feta and you've got a true winner. However, I think it is actually the sweet tahini drizzle (sesame and honey) that takes this dish over the top. The flavors here have an intensity, earthiness, and brightness that left me wondering why people don't combine mushrooms and honey more often.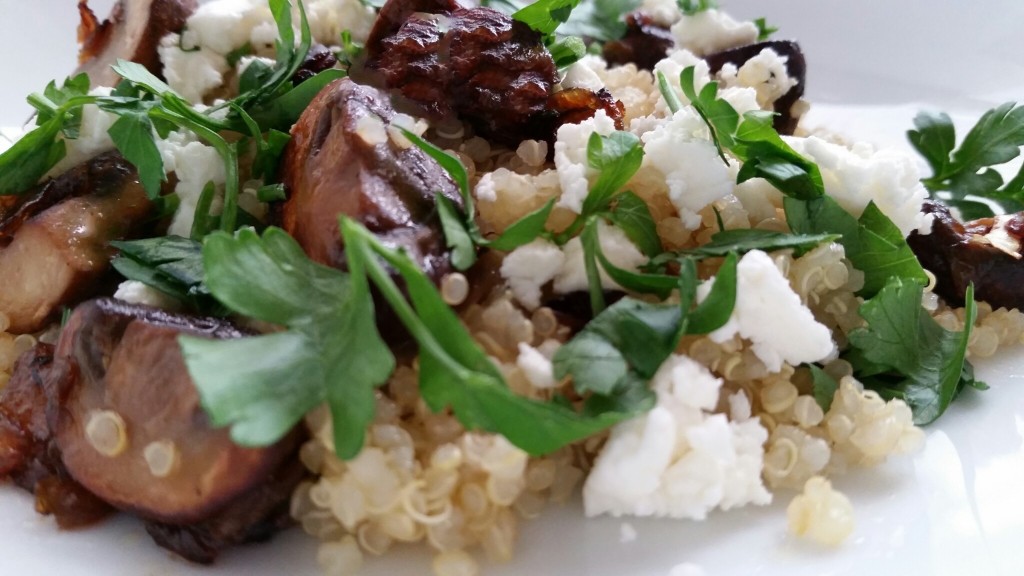 I'm not sure what my inspiration for this dish was, but I can tell you that I've been craving Middle Eastern flavors lately. My fridge is filled with dates (hence last week's Middle Eastern Date Shake), and my jar of tahini is almost empty. Maybe it's the hot weather. Or the bucketloads of rain. But whatever it is, I'm glad it led me to this dish of Middle Eastern mushroomy goodness! And I hope you will be too!
A couple notes about the recipe:
-This salad tastes great when the mushrooms are warm (duh…it's called "warm mushroom salad") but it's actually also great when everything is at room temperature. Try it both ways!
-Make sure that you don't overcrowd the pan when making your mushrooms. You want to get them to brown because the flavor is amazing; if there are a ton of mushrooms in a small pan, they'll just steam.
-One nice thing about this salad is that it will still be pretty good without all the components. If you really want a home run, don't leave anything out. But even if you just made the mushrooms from this salad and ate them on their own, you'd still be in for something pretty delish.
-This recipe serves 2 as a small plate, and 1 as an entrée.
Warm Mushroom Salad
Mushrooms:
1 medium onion, finely diced
2 tablespoons olive oil, plus a bit more
¼ teaspoon dried thyme
¼ teaspoon crushed red pepper flakes
¼ teaspoon celtic sea salt, plus a bit more, to taste
10 oz crimini mushrooms, washed, dried, and quarted or halved depending on size
1 tablespoon red wine vinegar
Tahini Drizzle:
1 tablespoon tahini
2 tablespoons olive oil
1 teaspoon red wine vinegar
1 teaspoon honey
pinch of salt
To Assemble:
1 ½ cups cooked quinoa, cooled to room temperature and tossed with a little olive oil and salt
chopped parsley
crumbled feta
Directions:
For the mushrooms:
Heat the two tablespoons of oil in a medium-large skillet over medium heat. Add the onion and sauté for 10-15 minutes, stirring occasionally. Midway through, add the thyme, 1/4 teaspoon salt, and crushed red pepper. When the onions are crisp and darkened, add the mushrooms. Allow the mushrooms to sit without stirring for 1-2 minutes so that they brown. Sprinkle with salt, add a touch more olive oil if you need to, and then raise the heat slightly and sauté the mushrooms for 5-7 minutes or until almost completely cooked, stirring frequently. Add the vinegar and scrape to get all the stuck pieces/flavor off the bottom of the pan. Continue cooking for 3-4 minutes until the mushrooms are cooked through.
For the tahini drizzle:
Whisk together all ingredients.
To assemble:
Divide the quinoa into two shallow bowls. Top with the warm mushroom mixture; then sprinkle chopped parsley and crumbled feta over the top. Finish with a light drizzle of the tahini mixture. Serve immediately.