Thanksgiving is approaching faster than you can say "pilgrim." Okay, maybe not quite that fast, but it's definitely sneaking up on us quickly! And that means it's time to start thinking about your Thanksgiving feast!
Being vegetarian growing up, people ALWAYS asked me what I did for Thanksgiving. It was apparently incomprehensible that it was possible to have a turkey-less celebration. The questions kept coming – "Do you make an exception for Thanksgiving?" "Um, no…" "Do you get a vegetarian turkey?" "Um, no…" "Oh, is your vegetarian turkey made out of tofu?" "Um, we don't have a vegetarian turkey…" "Wait, really? Wait, what does vegetarian turkey taste like, anyway?" At which point, I'd normally give up, sigh, and tell them that it tasted just like regular turkey minus the dead bird.
What I failed to communicate to those pesky questioners is that in our household (and in many meat-eating households I've been to), Thanksgiving is not about the turkey. It's all about the sides. If you can call them sides — big, beautiful, hearty, casseroles; luscious, richly-prepared mashes; vegetables upon vegetables upon vegetables. And pie, of course. Lots of pie. And maybe some chocolate pudding too.
While I'm not vegan (and you'll know that quite well if you made my buttery cookies from last week), I wanted to post a vegan Thanksgiving recipe because I'm sure that vegans get the endless questioning ten times worse. "Mashed potatoes without butter? Really? No cheese at all? I don't get it – what do you eat?" Sigh.
Anyway, speaking of mashed potatoes, I've decided to go classic here. This is a Thanksgiving twist on vegetarian shepherd's pie – the "meat" layer is composed of a savory mushroom/lentil mixture, with some pumpkin and sage thrown in for good measure. A bit of chopped carrot adds some crunch. Finally, it's topped with a yukon gold mash and baked to perfection.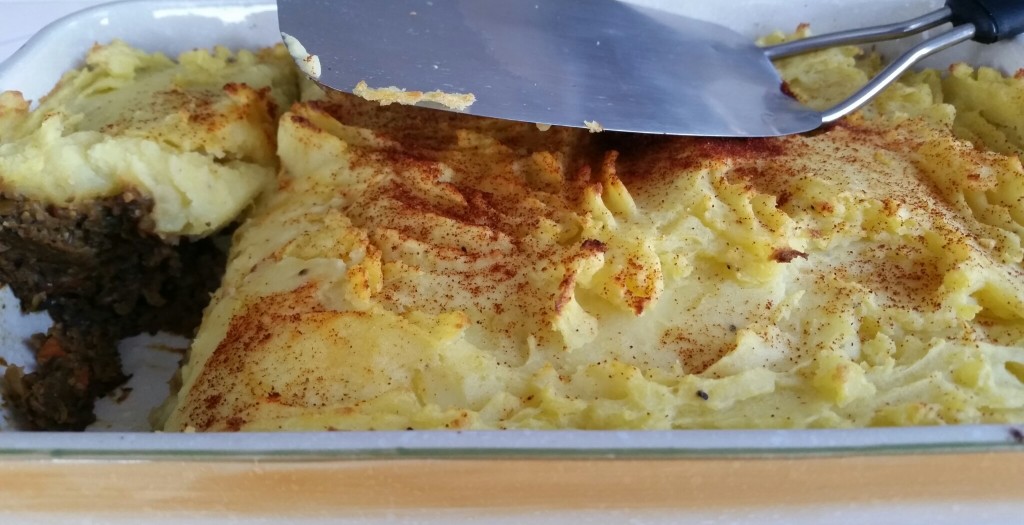 I was going to call this dish "Pilgrim's Pie" but a quick Google search revealed that Pilgrim's Pie already exists! It's a shepherd's pie that uses ground turkey instead of beef. Who knew? (Or maybe you've already heard of it – I hadn't.) In any case, if you're looking for a vegan addition to your Thanksgiving table, I recommend trying this Not-A-Pilgrim's-Pie out. (Nomenclature Fail #2 – oh well.)
A couple notes about this recipe:
-Please feel free to use your favorite version of mashed potatoes for the topping. I kept mine simple and vegan, but don't be afraid to jazz them up a bit! If you eat butter and cream, throw some in. If you want to use vegan butter instead of olive oil, go for it. If you have a special way of ricing or mashing or beating, or you have a family mashed potato recipe that's been in your household for generations, by all means, use it!
-If your food processor is big enough, you don't have to process the mushroom mixture and lentils separately. Just process the mushroom mixture for 15 seconds, then add the lentils and process 15 seconds more, scraping the sides of the bowl as needed.
-I used canned pumpkin puree for consistency of texture; fresh pumpkins don't yield uniform purees.
-Err on the side of more salt when seasoning your filling, since it will lose some punch as it bakes.
-This recipe serves 8 or more.
Thanksgiving Shepherd's Pie (Vegan)
For the bottom layer:
1 cup dried large green lentils, sorted and rinsed
2 cups water
3 tablespoons olive oil
1 onion, diced
½ teaspoon celtic sea salt, plus a couple pinches here and there
2 cloves of garlic, minced
1 pound crimini mushrooms, sliced
2 tablespoons finely chopped fresh sage
1 ½  teaspoons paprika
1 cup pumpkin puree
¼ teaspoon cayenne pepper
½ cup finely chopped raw carrot pieces
For the topping:
A generous 2 pounds yukon gold potatoes, peeled and cut into chunks
3 tablespoons extra virgin olive oil
⅓ cup vegetable broth
½ teaspoon celtic sea salt
freshly ground pepper, to taste
Directions:
Make the bottom layer:
Combine lentils and water with a pinch of salt in a saucepan. Bring to a boil, turn down to a simmer and cook, covered, for about 20-25 minutes, until lentils are cooked through. The water should be completely or mostly absorbed – if there is any excess water, drain it off.
Heat two tablespoons of the oil in a large saucepan over medium heat. Add the onions, sprinkle with the 1/2 teaspoon celtic sea salt, and cook for 5-7 minutes, stirring as needed. Add the garlic and cook two minutes more.  Next, add the mushrooms and sprinkle with another couple pinches of salt. Cook for 8-10 minutes, stirring frequently, until mushrooms are cooked through. If there is any excess liquid in the skillet, raise the heat and evaporate. Add the paprika and fresh sage during the last minute of cooking.
Process lentils in a food processor for about 15 seconds, until mixture is stiff and smooth but some whole lentils still remain. Scrape sides of food processor bowl as necessary. Transfer to a large bowl. Next, process the mushroom mixture (no need to clean the food processor bowl) for about 30 seconds. Add to the lentil mixture and stir well. Mix in the pumpkin puree, raw carrot, remaining tablespoon of olive oil, and cayenne pepper. Taste and season with additional salt, if needed.
Make the topping:
Place potato chunks in a saucepan and add water until the potatoes are just covered. Add a few pinches of salt, bring to a boil, and cook, uncovered, at a steady boil until the potatoes are cooked through and mashable, about 15 minutes. Drain, return to pot, add the olive oil and salt, and mash until smooth and fluffy. Add the vegetable broth a little at a time, and mix until thoroughly incorporated and creamy. Finish with the freshly ground black pepper.
Assemble and bake:
Spread the lentil/mushroom mixture evenly across the bottom of an 11.5 x 7.5 ceramic casserole dish. Spread the topping over the top. Finish with some sprinkled paprika and a light drizzle of olive oil. Bake in a 400 degree oven for 20-25 minutes, until potatoes have started to brown.