I've always been a caesar salad coveter. At restaurants, potlucks, cafeterias … I've often caught myself ogling that pile of romaine with the luscious, creamy dressing and fantasizing about bite after bite of delicious, crispy, creamy, sinful goodness.  I was devastated the first time I learned that, while there was no visible meat to speak of, the dressing harbored what I considered to be a dark secret: anchovies.
Mind you, I was well aware of most foods that had hidden meat – beef stock in French onion soup, chicken stock in so many classic veggie soups, lard in Mexican beans – and I was never that enraged by any of it. The hidden meat was enough to keep me far away, but that was fine with me; there was no coveting – no looking longingly at a neighboring table's order and imagining what it would be like to eat it.
With caesar salad, however, I've embarrassed myself more than once. There is something about it that is just so tantalizing. So when vegan caesar dressings started popping up in some vegetarian restaurants, I was super excited. Until I went rice-free, that is. Because guess what all vegan caesar salad dressings (that I've ever seen) have in common? Miso! And guess what miso is made from? Soy and rice.
So I decided to create a vegan caesar-style dressing that is soy-free, nut-free, and grain-free. It uses sunflower seeds as a base, and is caesared-up with roasted seaweed sheets (the ones that come in the little seaweed snack packages) and umeboshi vinegar. It is very easy to make, requires zero planning (you don't have to soak the seeds or anything), and has a creamy, salty, savory, tangy flavor that should work for all your caesar salad needs. I've tried it massaged into kale, on romaine, and as a dip for carrot sticks. While you won't taste anchovies, you will get that creamy texture and savory flavor that (in my opinion) is the defining feature of a caesar dressing.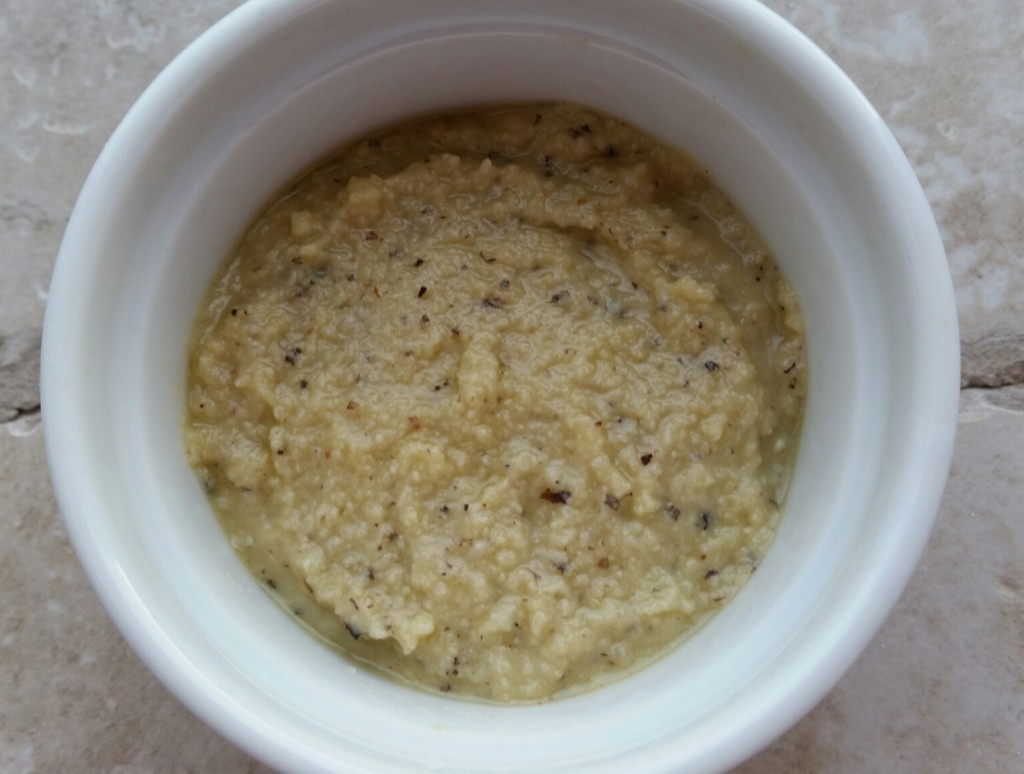 A couple notes about the recipe:
-This dressing is quite thick, so don't be afraid to use your hands to mix it into your salad. If desired, you can thin it out with some extra oil and vinegar/lemon, but I find the texture to be perfect once you mix it into your salad.
-Like most salad dressings, this one will solidify when stored in the fridge. Just let it sit out on the counter for a few minutes until it comes to temperature and regains its dressing consistency.
-Feel free to adjust the seasoning, tartness, saltiness, etc. to your specific taste preferences. The dressing will lose a little punch once it is mixed into your salad so I like to add some more salt and pepper when I'm tossing, just to bring out the flavors a bit more.
-I used two sheets from a package of SeaSnax (original flavor) for my roasted seaweed component. Feel free to use any similar product, but be sure there are no added flavorings (besides sea salt).
-This recipe makes about 1 cup of dressing.
Vegan Caesar Salad Dressing
1 cup raw, unsalted sunflower seeds

⅔ 

cup extra virgin olive oil
½ clove garlic
¼ teaspoon celtic sea salt, plus a little extra (to taste)
2 tablespoons freshly squeezed lemon juice
2 tablespoons umeboshi vinegar
1 tablespoon white wine vinegar
½ teaspoon stone ground brown mustard
2 sheets roasted seaweed (from a package of SeaSnax or similar product, photo above)
¼ teaspoon honey or 1 medjool date, pitted
Freshly ground black pepper, to taste
Directions:
Combine all ingredients in a high powered blender and blend until smooth.