Do you ever spend forever trying to decide the simplest things? I know I do…when it comes to ordering food, that is. I'm sad to say that far too much of my brain power has gone to agonizing over questions like "Sweet potato fries or regular?" "For the soup, did you want the cup or the bowl?" and "Pesto or marinara?" If these questions seem trivial, they absolutely are. But for someone whose happiness level is very much tied to getting these questions right – and who suffers from a disproportionate amount of ordering regret when it's a miss – the decision can take a little while.
I had a similar dilemma when crafting this recipe, which was born out of a delicious thrown-together dinner (bowls are fabulous for these situations) a couple weeks back. I wasn't planning to make it a blog post, but I was really happy with the tamarind-peanut sauce I had spontaneously created and thought a warming tofu satay bowl worth sharing. Then I had the leftovers – cold – the next day and found myself with an intriguing idea: should I post a summer salad instead? Same sauce – maybe make it a tiny bit more dressingy with a little vinegar – sub papaya for the broccoli, keep the tofu, cilantro, and peanuts, and maybe throw in some fresh basil? It certainly was quite delicious cold and you can never go wrong with fresh papaya! But I really liked that warm dinner bowl,  too…
I was so torn that I ended up buying both broccoli and papaya at the store so I didn't have to decide until later. And I ended up going with the satay bowl. I don't have any regrets (because this bowl is really quite delicious) but if you feel like trying the salad variation I described, do go for it. I don't think you'll have regrets either way.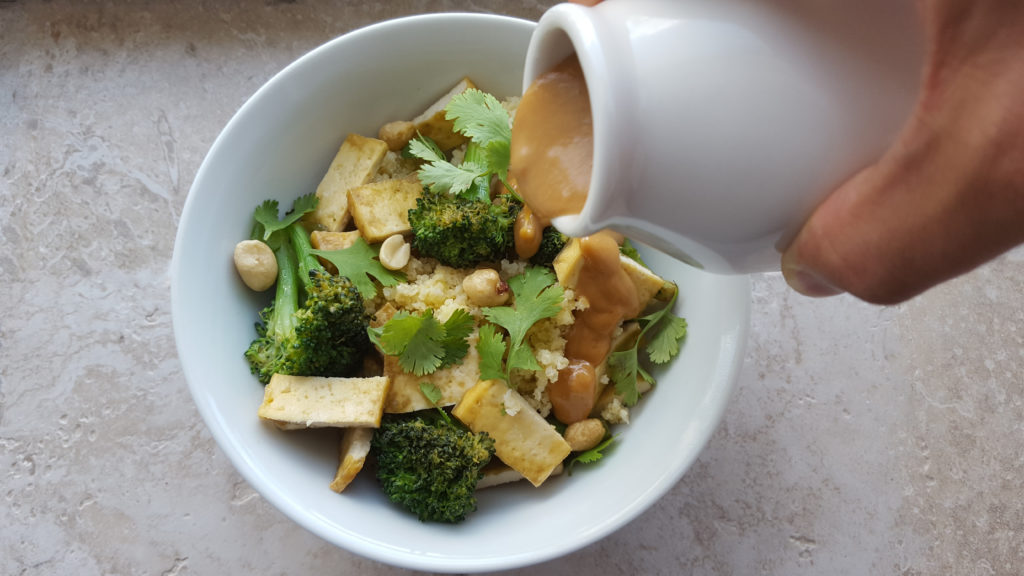 A couple notes about the recipe:
-I used deSiam brand tamarind stir-fry paste for this recipe. This is VERY different than tamarind paste concentrate, as it has added water, salt and sugar so it's much more diluted than the concentrate. You can probably make your own by diluting the concentrate with water and adding salt and sugar to it but I didn't have any concentrate on hand so I didn't try this. If you decide to make your own stir-fry paste, use about 2 tablespoons of the final product in your sauce.
-You may need to adjust the amount of tamari based on the saltiness of your peanut butter and your own personal salt preferences. Just keep in mind that sauces should taste a little too salty when eaten by themselves – this means they'll be perfect when drizzled over your food!
-This recipe serves 3-4, depending on your portion sizes. For Low FODMAP, stick to 1/2 cup broccoli and 1/4 cake of tofu (3 slabs) per sitting.
Tofu Satay Bowl
1 cup  grain of choice, uncooked (I used millet)
1 head broccoli, cut into florets (my head of broccoli yielded 14 ounces of florets)
3 tablespoons toasted sesame oil
1 tablespoon gluten-free tamari
1 tablespoon freshly-squeezed orange juice
1 cake extra-firm tofu, drained
Neutrally-flavored vegetable oil, for baking the tofu
chopped cilantro and toasted peanuts, for sprinkling
Tamarind satay sauce, for drizzling (recipe below)
Directions:
First, prep the tofu: Cut the cake into quarters and then cut each quarter into three slabs. Lay the slabs on a towel-lined sheet tray, cover with a kitchen towel, place something heavy on top, and let sit for 30 minutes. After pressing, coat lightly with a neutrally-flavored vegetable oil, sprinkle with salt, and bake on a parchment-paper lined sheet tray in a 400 degree oven until golden, about 20 minutes. Cut the slabs into bite-sized pieces.
While the tofu is pressing/baking, prep the broccoli: Bring a large pot of heavily salted water to a rapid boil. In batches if necessary (you don't want to overcrowd the pot), add the florets and cook for 2-3 minutes, until tender but not mushy. Leave in a colander to dry out. Then heat the sesame oil in a skillet over medium-high heat. Add the broccoli florets (make sure they are nice and dry!) and let stand for a minute or so to get some browning going. Cook for 5-7 minutes, until cooked through, adding the tamari and orange juice about ½ way through the cooking process.
Meanwhile, cook your grain of choice: according to the directions.
Assemble the bowls: Place the cooked grain on the bottom and top with the tofu and broccoli. Sprinkle generously with cilantro and peanuts; then drizzle the tamarind-satay sauce over the top. If you want to get specific about it, I've found my preferred ratio to be ¾ cup cooked grain, ½ cup broccoli,  and 3 slabs of tofu (cut into bite-sized pieces) per bowl.
Tamarind Satay Sauce
Yield: 1 cup
2 sachets deSiam tamarind stir-fry paste (or see notes)
1 tablespoon + 1 teaspoon gluten-free tamari
2 tablespoons neutrally-flavored vegetable oil
2 tablespoons freshly-squeezed orange juice
Several twists from a red pepper flake grinder, to taste
3 tablespoons unsweetened peanut butter
¼ cup hot water
Directions: Use a fork to whisk together the tamari, tamarind stir-fry paste, oil, orange juice, and red pepper flakes. Stir in the peanut butter; then slowly drizzle in the hot water to thin out the sauce. (If your peanut butter doesn't easily mix, you can also use the hot water to help blend everything together.) Drizzle over your bowls! Use any leftover for stir-fries, peanut noodles, etc.