I guess I maybe shouldn't have complained about the lack of hot weather in my last post. Because now we've got it…bad. I know it's not officially summer yet (and the weather is actually pretty nice when you're lucky enough to get outside) but it's so hot inside my apartment that the familiar summer sluggishness has definitely set in for me. I don't feel like eating much, and when I do, it better be light and refreshing if I'm expected to eat more than a mouthful or two!
Hence this salad. The only part that requires the stove at all is boiling water for the buckwheat noodles. Easy peasy. It's nice and light – more of a side than an entree – but if you wanted to make it more substantial, you could easily add some fried tofu and/or egg. Buckwheat noodles are tossed with fresh cabbage, carrots, scallion, and cilantro, doused in a light Asian-inspired vinaigrette, and topped with some roasted peanuts and crispy ginger. Sounds pretty good, right? It is!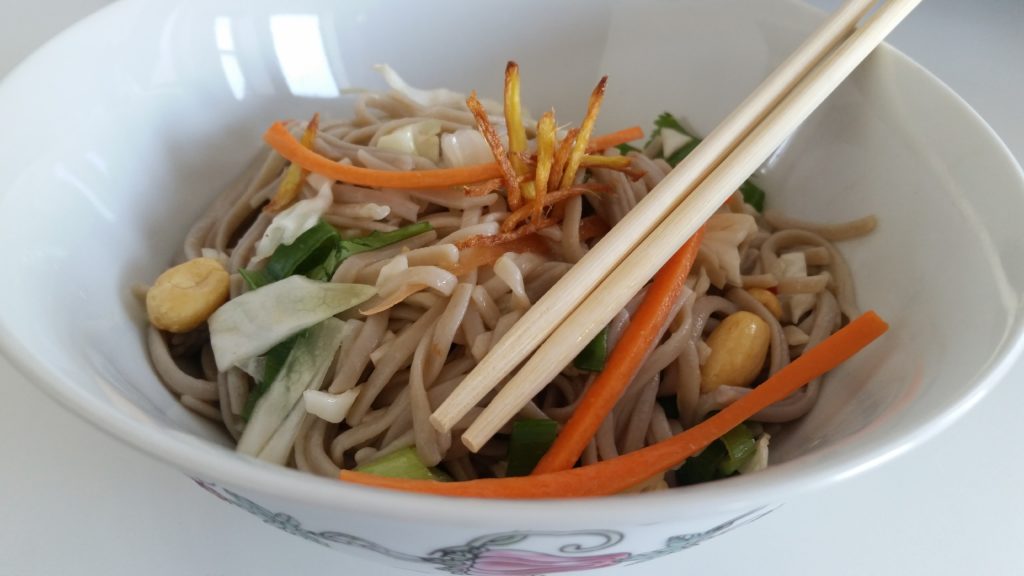 So let's quickly talk about buckwheat noodles. High in protein, they have a wonderful nutty flavor, and are fantastic in salads, soups, and stir-fries! In fact, if you've ever had soba, you already know what buckwheat noodles taste like – it's the buckwheat that gives soba that distinctive flavor and color! Keep in mind that soba noodles are usually not gluten-free, since they are made from a blend of buckwheat and wheat. And while you can find gluten-free soba noodles made from 100 percent buckwheat flour, they are fairly pricey. I normally buy the buckwheat-sweet potato noodles from the brand King Soba because they have a lovely flavor and are cheaper than the 100 percent buckwheat variety. They taste great in all the aforementioned preparations, and I also often just eat them with peanut sauce or as a bed for tofu and veggies. In short, the only thing you probably don't want to do with them is cover them with tomato sauce — though believe it or not, some people do this! (By the way, if you do want a buckwheat noodle that tastes good with tomato sauce, try buckwheat spirals from the brand Orgran.) And once again, I do NOT have a relationship with any of these companies (though I wish I did because I would love to make some money off this blog one day :p); these are just my own personal recommendations.
A couple notes about the recipe:
-Be sure your peanut oil is unrefined – you want it to have that delicious peanut-y flavor.
-I kept these noodles pretty mild, but if you want them hotter, just add some more chili paste!
Summer Buckwheat Noodle Salad
1 8.8 oz package gluten-free buckwheat noodles
1 tablespoon unrefined peanut oil
1 ½ cups finely chopped cabbage
2/3 cup chopped scallions
1 cup julienned carrots
2 tablespoons roughly chopped cilantro
2-3 tablespoons roasted peanuts, to taste
crispy ginger, to garnish (recipe below)
Dressing:
¼ cup unrefined peanut oil
1 tablespoon apple cider vinegar
1 tablespoon white wine vinegar
1 tablespoon lemon juice
1 tablespoon + 2 teaspoons coconut aminos
1 teaspoon gluten free tamari
1/2 teaspoon chili paste
Directions: 
Cook the buckwheat noodles according to package directions. Drain, then rinse with cold water, shaking off any excess. Immediately toss with the tablespoon of peanut oil so they don't stick.
Whisk together all dressing ingredients.
Combine the noodles, cabbage, scallions, carrots, cilantro, and roasted peanuts in a large bowl. Pour the dressing on top, and toss well to combine. Garnish each portion with crispy ginger (see below) and a few drops of coconut aminos.
Crispy Ginger:
Neutrally flavored vegetable oil
Fresh ginger root
Heat about 1/4 inch of oil in a large skillet. Peel the ginger; then cut into thin matchsticks. Drop the matchsticks into the oil – they should immediately sizzle – and let cook until they crisp up and darken, about a minute. Immediately transfer to a paper towel-lined plate.