There is nothing like sitting down to a beautiful and delicious plate of steaming pasta. It's elegance and comfort all rolled into one, which is kind of hard for most dishes to accomplish. Think about it – what other comfort food also brings with it so much elegance and class? Well, actually, all of the ones with Italian roots.
How do you make a sandwich elegant? Turn it into a panini.
What about a pizza? That's easy. Ditch your NY-style pizza by the slice and go for a wood-oven baked pie with San Marzano tomato sauce and fresh mozzarella.
Fried dough? Sure. It's a ricotta-filled zeppole.
In fact, if I had to make one general statement about Italian chefs, it would be that they sure do know how to combine comfort and elegance. And you can too. So put on some Puccini and pour yourself a nice glass of Chianti, because I have a delicious Italian-style pasta recipe for you.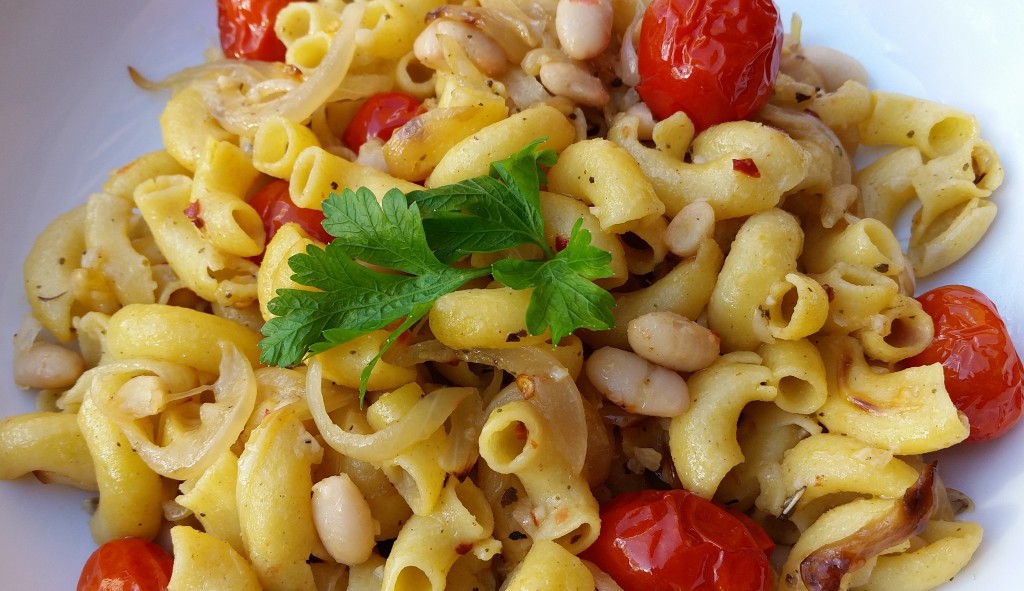 The heat level of this pasta is similar to a traditional Pasta Aglio Olio Peperoncino (an Italian pasta dish with olive oil, garlic, and chili flakes) and is not as hot as a traditional Pasta Arrabiata (an Italian pasta dish that literally translates as "Angry Pasta" and features a tomato sauce that is quite spicy). The white beans provide a delicious heartiness (and protein element) that goes really nicely with the sweetness of the onions and the deep zestiness of the roasted tomatoes. In keeping with our theme of comfort and elegance, this pasta looks and feels light and chic but is surprisingly hearty and filling. If you want to play up the elegance, serve it with an arugula salad and a bottle of wine. If you want to play up the comfort, break out the (gluten-free) garlic bread! Or, you know, you could also just eat it on its own right out of the pot – in your PJs, of course. What I'm trying to say is that I'm sure you'll enjoy this pasta in any setting for any occasion.
A couple notes about the recipe:
-I use the Quinoa Harvest brand of gluten-free pasta when I make this. This pasta has only two ingredients: organic corn flour and organic quinoa flour. I find that it does a great job mimicking the taste and texture of regular pasta, but it does tend to stick together when you cook it, especially if you choose spaghetti or linguini! As such, I recommend cooking it in plenty of rapidly boiling salted water, adding a bit of oil when you add the pasta, and stirring occasionally.
-You can obviously make this dish with whatever brand of pasta is your personal favorite (whether it be gluten-free or gluten-laden). However, please note that this recipe calls for an 8 oz box of pasta, so if your pasta box is larger, remember to either scale up the recipe or only cook an 8 oz portion.
-Whatever brand of pasta you use, please do salt your pasta water – it really does affect the flavor! Also, try to time your pasta so that it is ready around the same time as the bean mixture. If this is difficult, err on the side of having your bean mixture ready before your pasta, because you can always heat it up again a couple minutes before you're about to drain the pasta. What you don't want is for your pasta to be ready before your beans – you want it to go directly into the skillet with the bean mixture.
-If you prefer your food less spicy, feel free to decrease the red pepper flakes in this recipe. If you want it spicier, feel free to increase the red pepper flakes in this recipe.
-This is a vegan recipe with a non-vegan option of sprinkling some parmesan cheese on top. It is delicious both ways.
Spicy Pasta with White Beans, Caramelized Onions, and Roasted Tomatoes
10 oz grape tomatoes
1 onion, sauté sliced
3 large cloves of garlic, minced
Heaping 1¼ cups white beans (cannellini, great northern, etc.) (1 15 oz can)
1 teaspoon dried sage
¾ teaspoon crushed red pepper flakes
¼ cup + 2 tablespoons olive oil, plus extra for roasting the tomatoes.
¾ teaspoon celtic sea salt
An 8 oz box of your favorite gluten-free pasta
Preheat the oven to 400 degrees and put up a large pot of salted water for your pasta. Rinse the tomatoes, toss them with olive oil and salt, and spread them out on a parchment paper lined sheet tray. Roast for about 15-20 minutes, until the tomatoes are wrinkled and starting to burst, but still completely whole.
While the tomatoes are roasting, heat the 2 tablespoons of olive oil over medium heat in a large skillet. Add the onion. Stir  very frequently for 15-20 minutes until the onion caramelizes. (It will soften and darken.) Add the ¼ cup of olive oil, minced garlic, sage, red pepper flakes and salt, and lower the heat. Simmer for 2 minutes, stirring frequently. Add the beans, raise the heat to medium-high, and cook 3 minutes more.
Cook the pasta according to package directions. Drain, and then immediately transfer to the skillet. Toss with the bean mixture until thoroughly coated. Add the roasted tomatoes and serve immediately with freshly grated parmesan (optional) and black pepper.