Have you heard of sorghum? It's a wonderful gluten-free grain that is similar to farro or wheat berries when cooked whole. If you haven't seen sorghum in berry form, you might be more familiar with sorghum flour – which has a mild, nutty flavor that is wonderful in gluten-free baked goods or pancakes – or with sorghum syrup, which is made from the stalks of the sorghum plant and is a common alternative sweetener.
But sorghum berries are definitely worth knowing about! They are probably one of the heartiest gluten-free grains you can find – robust and nutty, with a lovely round shape and a satisfying chewiness that pairs exceptionally well with bold dressings like the balsamic-blue cheese vinaigrette in this recipe.
In fact, their bite and robustness make sorghum berries absolutely fantastic in salads of all kinds! But especially in this one, which screams October with every mouthful. Bite into this salad and you've got a perfect medley of autumn flavors and textures: the heartiness of the sorghum and kale punctuated by crunchy, juicy apples; the sharp saltiness of the shaved pecorino romano; and the honey hazelnuts from last week's Apple-Ricotta Tart. (They were so good I couldn't resist making some more!) And finally, this salad wouldn't be the same without the punchy blue-balsamic vinaigrette mentioned earlier –  with its base of grainy old-fashioned mustard and tangy blue cheese.
Best of all, this salad is hearty enough that you can easily store it dressed in the fridge and take it with you to work, etc. You'll have a wonderful, healthy, delicious, and seasonal lunch – and you won't have to stand in a long line and drop what may seem like an unreasonable amount of money to get it!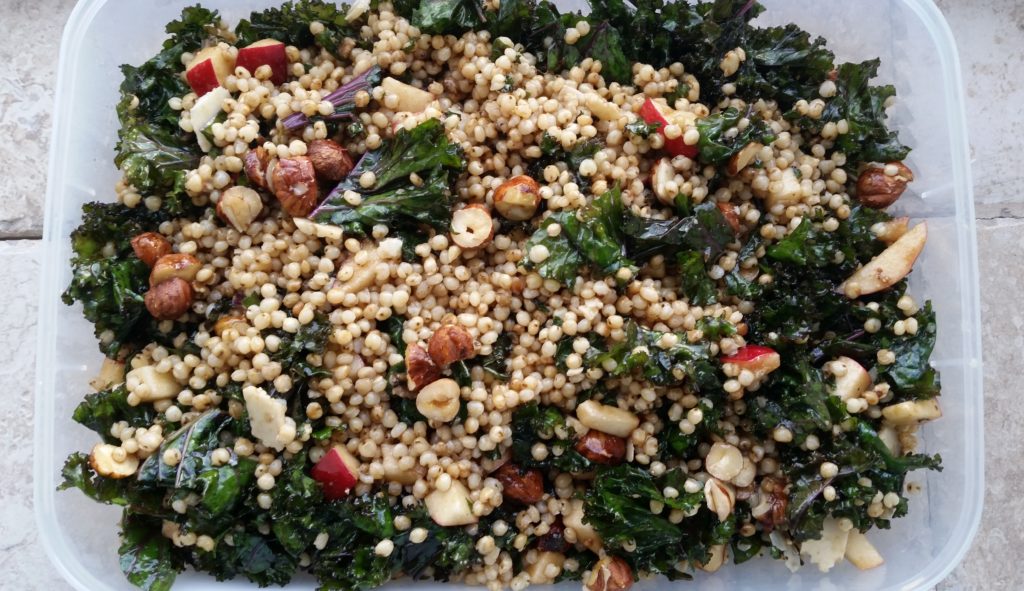 A couple notes about the recipe:
-The dressing recipe will yield a bit more than you need. There are two reasons for this: First, the dressed salad will mellow a bit once it sits in the fridge and it's nice to have a little extra to drizzle on top. Second, keeping some of this dressing on hand will allow you to instantly create fabulous salads with only a few ingredients. Since its acidity is designed for hearty ingredients like kale and sorghum, you may want to tone it down with a bit of extra olive oil if you're adding it to more delicate greens, but once you do this, your 10-second mix-and-match lunch from the fridge (think spinach, pear, and a couple nuts and seeds, for example), starts to feel like you're eating a high dollar salad at a fancy establishment. That said, since good quality olive oil solidifies when refrigerated, you will need to allow a bit more than ten seconds for the dressing to come to temperature so it can be whisked back into shape.
-Sometimes, hazelnuts can taste bitter if you don't peel off the brown skin. Make sure you taste your hazelnuts before adding them to the salad: if they are bitter, just toast them and then rub off the skins. Mine were nice and fresh so I left them raw and they were delightful!
-Most sorghum cooking directions call for a 3 to 1 ratio of water to sorghum, with a caveat that you may have to add more water if it becomes absorbed before the sorghum is cooked. To avoid having to babysit my sorghum, I usually use 4 cups water to 1 cup sorghum and then simply drain off any excess water once it's cooked. The sorghum also seems to cook pretty quickly this way – I've never had to cook it past 45 minutes, which is on the lower end of the cooking time spectrum for sorghum.
-This recipe will yield about 8 cups of salad.
Sorghum & Kale Salad with Balsamic-Blue Cheese Vinaigrette
1 cup sorghum
4 cups water
5 packed cups chopped kale leaves (About 1/2 a bunch of kale – stripped, washed, dried, and chopped into bite-sized pieces)
1 tablespoon extra-virgin olive oil
¼ teaspoon celtic sea salt
¾ cup diced apple
⅓ cup hazelnuts, mixed with 2 teaspoons honey and a pinch of salt, then very roughly chopped
Heaping ½ cup freshly shaved pecorino romano cheese
Dressing:
¼ cup freshly crumbled buttermilk blue cheese (or any mild, tangy variety of blue)
2 teaspoons old fashioned grainy brown mustard
2 teaspoons freshly squeezed lemon juice
1 teaspoon honey
¼ cup good quality balsamic vinegar
1 teaspoon white wine vinegar
½ cup extra-virgin olive oil
Plenty of freshly ground black pepper, to taste
Salt, to taste (amount will vary depending on the saltiness of your mustard and blue cheese)
Directions:
Rinse the sorghum in a fine mesh strainer. Combine the sorghum and water in a saucepan with a pinch of salt. Bring to a rolling boil, then cover, reduce heat to medium-low, and keep at a generous simmer for 45-60 minutes, until sorghum is tender but not mushy. Drain off any excess water, and set aside to let cool.
Place the chopped kale in a large bowl. Drizzle the tablespoon of olive oil over the top and sprinkle with the salt. Massage the oil and salt into the kale by taking fistfuls of it and squeezing gently. After about a minute of this, the kale will start to shrink down and become tender.
To make the dressing, use a fork to whisk together the blue cheese, mustard, lemon, honey, and vinegars. Slowly pour in the olive oil, whisking constantly. Taste, and season with salt and pepper.
To assemble the salad, combine the cooled sorghum, kale, apple, honey-hazelnuts, and pecorino. Add desired amount of dressing (you will have extra – see note) and toss well. Enjoy!