We've been on a bit of an emotional rollercoaster weather-wise lately, at least in New York City. Beautiful, warm days followed by raw, biting cold. If your moods are severely impacted by weather (as mine are), it can be hard to stay uplifted when the temperature plunges and the wind picks up.
But there is a mood lifter – food. Rejoice in the fact that you can leave your oven on for 45 minutes, which in the warmer months feels at best irresponsible (if you have AC) and at worst like death (if you don't). Embrace hearty, umami-laden foods like fennel and let your senses feast on bright, vibrant citrus (winter's best candy). You'll be feeling better in no time.
This dish is extremely simple but tastes quite complex. Sliced fennel is drizzled with olive oil, salt, and pepper; then covered with orange slices. The fennel becomes tender and meaty when left in the oven and is made even more delicious with the addition of a citrus-glaze which takes almost no time at all to prepare and which really takes this dish to the next level. (Once you make this glaze, I guarantee you'll want to use it on other veggies too!) When everything comes out of the oven, you'll be ready to emerge from your pile of blankets, no matter how cold it is outside.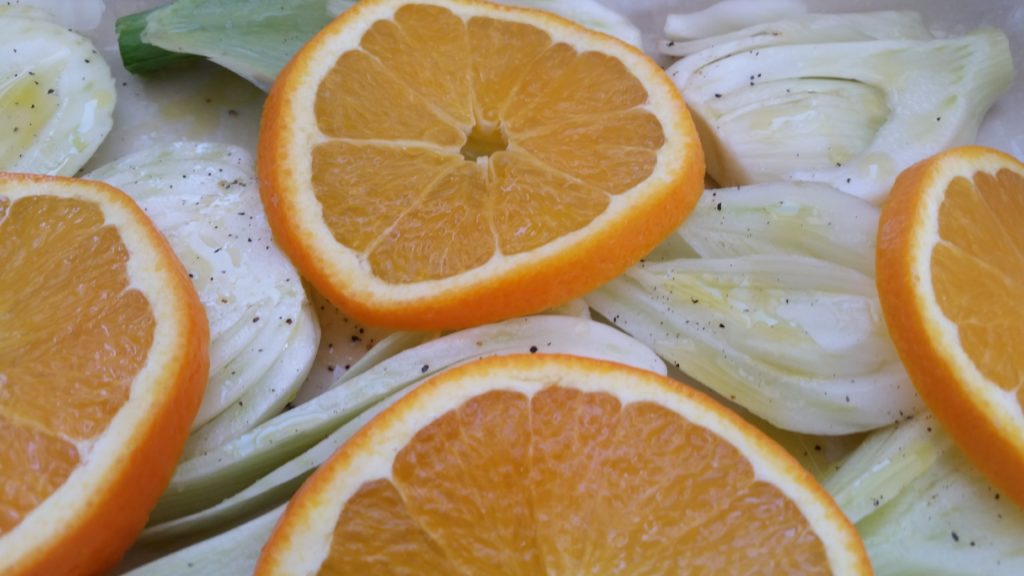 A couple notes about the recipe:
-I didn't specify a quantity for the fennel since you can make however much you'd like to eat. The glaze recipe will yield 2 tablespoons, which is enough to cover the slices from two average fennel bulbs. You may want to make more of the glaze if roasting a lot of fennel.
-For Low FODMAP, don't eat more than 1/2 a cup of fennel per serving.
Simple Citrus-Roasted Fennel
Fennel bulbs (depending on the quantity you wish to make)
Olive oil, for drizzling
Salt and pepper, for sprinkling
Orange slices, for laying on top + some orange for squeezing
Citrus Glaze:
1/4 cup freshly squeezed orange juice
2 tablespoons olive oil
1 tablespoon + 1 teaspoon red wine vinegar
generous pinch of salt
Directions:
Preheat the oven to 425°F. Wash the fennel and cut off the fronds (reserve for garnish). Use a vegetable peeler to peel away any brown spots on the surface of the fennel bulb. Cut off the very end; then slice lengthwise and place (single layer) in a casserole dish. Drizzle with olive oil; sprinkle with salt and pepper. Squeeze orange juice over the fennel, then lay orange slices on top. Roast until tender, about 45 minutes. You may want to flip the fennel over midway through the cooking time.
While the fennel is in the oven, make the glaze. Combine all the glaze ingredients in a small saucepan and boil on high until the consistency is syrupy, about 3-5 minutes. Spoon the glaze over the fennel and either roast an additional 5 minutes or so with the glaze on or enjoy as is.