Maybe I'm just lazy, but I think the bears have it right: when fall rolls around, my first inclination is to start gathering as much energy as I can and preserve the hell out of it. This means that lately I've been craving nourishing, warming, simple meals. Meals that quickly restore lost energy and don't make you use that newfound energy to clean dreaded piles of dishes and appliances. (Seriously – I can't tell you how many times I've adjusted my dinner plans just because I didn't feel like dirtying the blender.)  So one-pot meals are my friend, right now. Especially when those meals are super rich in iron, protein, and fiber, and make me feel like I'm wrapped in a nice, fuzzy, blanket. (Okay, I may have eaten this while wrapped in an actual blanket…)
But seriously, this stew is comfort food at its best. A simple, protein-packed, one-pot wonder. It's delicious by itself, and even better accompanied by a nice crusty hunk of gluten-free French bread.  Better yet, it's super cheap to make and uses simple ingredients that you probably already have on hand. Instead of requiring vegetable broth (for me, the one ingredient I never seem to have in my pantry/fridge when I want to make stews) this dish creates its own umami-laden broth by marrying the sharp saltiness of the olives with the subtle sweetness of the balsamic.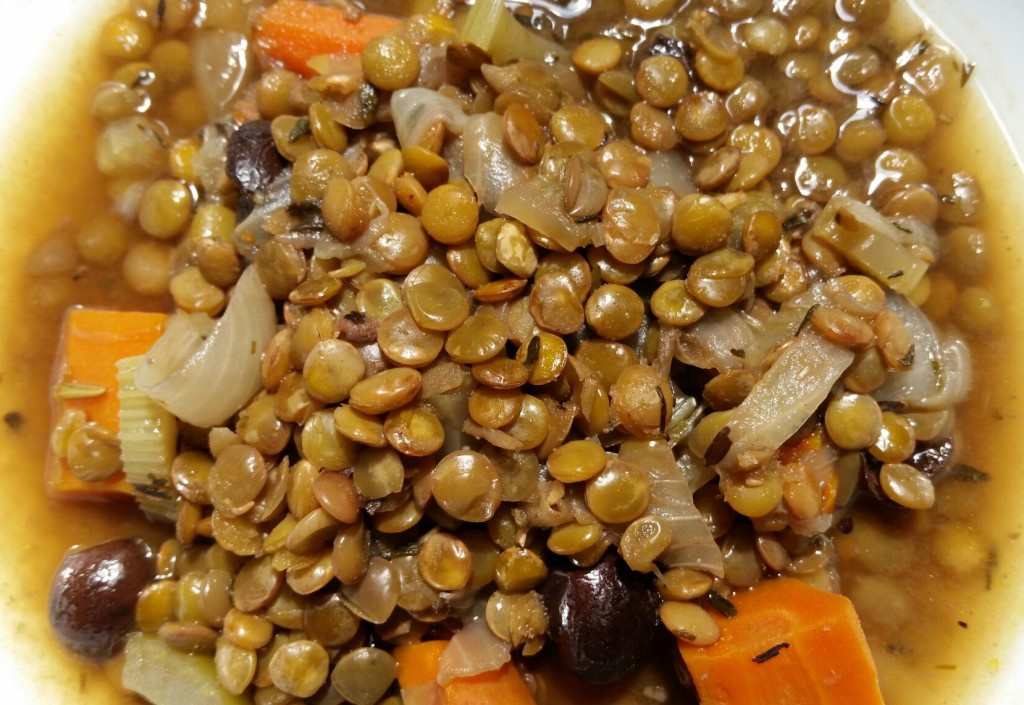 It's so simple: sweat some onions, add some veggies and spices, throw in your lentils and water, and then gently simmer everything until your lentils are cooked. Finally, add in your olives and balsamic and simmer until your broth tastes deceptively complex. (You don't have to tell anyone how simple it was.) Pour into a bowl, get a blanket, and start preparing for hibernation. Lucky for you, there's only one pot to clean, so if you do want to hibernate tonight, you totally can.
A couple notes about the recipe:
-I used organic large green lentils from the bulk section of Whole Foods for this stew. I like using this type of lentil because it cooks relatively quickly and holds its shape well. I've also made this with French lentils, which take a considerably longer time to cook. If you choose to use French lentils or another longer-cooking lentil, you will probably need to increase the amount of water.
-While most of the ingredients are very inexpensive, this stew does require a high-quality balsamic vinegar to achieve its delicious broth. High-quality balsamic vinegars are richer, thicker, and less acidic than very cheap varieties. No need to shell out hundreds of dollars, either – you can find totally acceptable balsamics in the $15-20 range. (The super high quality varieties are purely intended for drizzling and should never be heated, anyway!)
-This recipe serves four, generously.
Rustic Lentil Stew with Balsamic and Olives
2 tablespoons olive oil
1 large onion, diced
2 cloves garlic, minced
2 large carrots, cut into ½ inch rounds or chunks
2 ribs celery, chopped
1 teaspoon dried thyme
1 teaspoon dried oregano
1 teaspoon dried herbes de Provence
½ teaspoon paprika
¾ teaspoon celtic sea salt, plus extra, to taste
1 ¼ cups dried green lentils
4½ cups water
½ cup kalamata olives, roughly chopped
1 tablespoon good quality balsamic vinegar
Freshly ground black pepper, to taste
Directions:
In a large soup pot or dutch oven, sweat the onions in the olive oil for 3-4 minutes, over medium heat. Add the garlic and cook 2 minutes more. Next, add the spices, carrots, celery, and ½ teaspoon of the celtic sea salt and cook for about 5 minutes. Add the lentils and stir to coat. Then add 4 cups of the water and the additional ¼ teaspoon celtic sea salt and bring to a boil. Reduce heat and simmer, partially covered, for about 20 minutes, or until the lentils are tender. Add the olives, balsamic, and reserved ½ cup water, and simmer for about 10 minutes more. Season with additional salt and freshly ground black pepper, to taste. Enjoy!