One of the frustrating things about packaged gluten-free breads is the lack of variety. Most of them tend to imitate white sandwich breads. Every once in a while, you'll find a whole-grain version, and if you're very lucky, you might discover a crusty, artisan-style loaf. But I've yet to find a packaged gluten-free version of those flatter, denser, heartier, nut & seed breads that were so much a part of my childhood. Breads reminiscent of this sunflower loaf, for example.
Luckily, imitation "nut & seed" breads are super easy to make; MUCH easier than your typical yeasted loaf. The recipe I've developed below can be whipped up in about 10 minutes, and then only bakes for 25. It's composed of healthy, fuel-packed ingredients like oats and quinoa flakes, with a lovely sweetness from the pumpkin and savory notes of sage and marjoram. Better yet, the whole thing can be baked in the tray of your toaster oven! (Unless of course, you want more bread than that, in which case I recommend doubling the recipe and baking it in a regular oven.)
This bread is delicious with all  manner of toppings: hummus & avocado, mustard & swiss, tempeh, lettuce, & tomato – you name it. It's pictured below with a vegan cheese spread and some fresh veggies. So, how about some hearty pumpkin bread to offset all that Halloween sugar?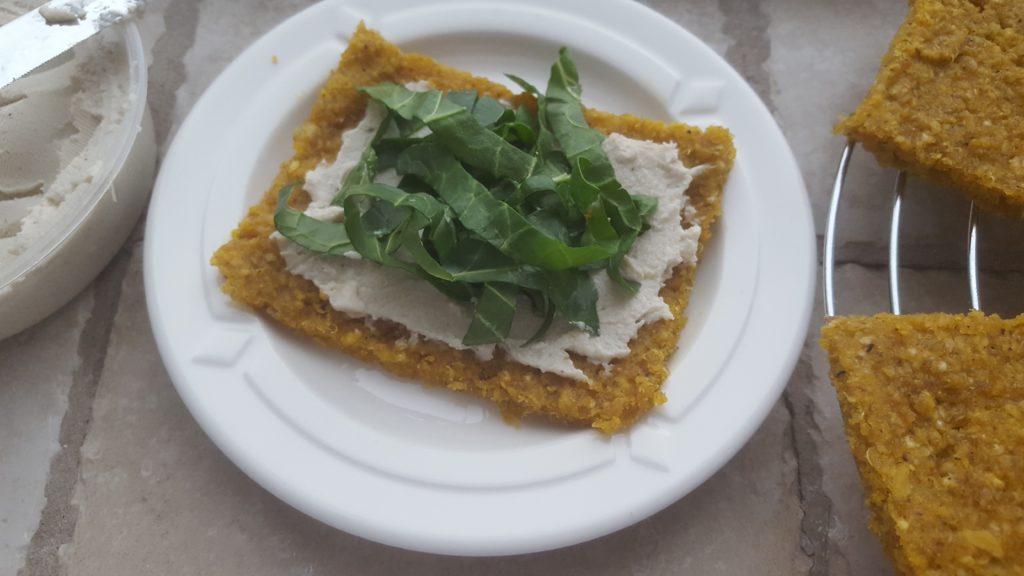 A couple notes about the recipe:
-As mentioned above, this recipe can be doubled and baked on a regular sheet tray in the oven, instead of the toaster-oven version listed below. Just preheat your oven to 350°F, spread the doubled dough into a 12×12 rectangle, and bake for 20-25 minutes, until firm.
-This bread will only taste like bread after it has cooled completely. It is also good eaten directly from the fridge. Warm, you'll get a delicious flavor but it won't have that bread-like quality.
-Low-Fodmap peeps: If you make the toaster-oven version (below), you can eat up to half of the full yield in one sitting. If you make the doubled recipe, you can eat up to 1/4 of the full yield. However, please note that this bread is quite high in fiber, so use caution.
Pumpkin-Sage "Nut & Seed" Bread
1 tablespoon golden flax seeds
¼ cup water
½ cup gluten-free sprouted rolled oats
¾ cup quinoa flakes
¼ cup millet flour
½ teaspoon celtic sea salt
½ teaspoon rubbed sage
½ teaspoon dried marjoram
1/3 cup + 2 tablespoons grapeseed oil
1 tablespoon maple syrup
1/3 cup pumpkin puree (canned)
Directions:
Grind the flax seeds in a spice grinder. Pour into a cup and mix with the water. Place in the fridge for about 15 minutes, until gelled.
Combine the oats, flakes, millet flour, herbs, and salt. In a separate bowl, combine the pumpkin, oil, maple syrup, and flax gel. Mix the wet ingredients into the dry. Then spread out on a parchment-paper lined 8½ x 11 inch toaster oven tray and bake at 350°F for 20-25 minutes, until firm. Let stand until room temperature; then cut into slices. Store the slices in a ziplock bag in the fridge.