This pumpkin mac and cheese is everything I look for in a mac and cheese – it's super creamy, uber-savory, and deeply buttery. It also happens to look great in a ramekin. But there's no cheese. Or butter.
If you're skeptical, I don't blame you. I've had my share of dairy-free mac and cheese  and I'm not really a fan. Imitation cheese is just never as good as the real thing. But here's the beauty of this recipe – there's absolutely no imitation cheese involved. None whatsoever. There isn't even any miso or nutritional yeast or any of the other ingredients often used to make something taste "cheesy." But somehow, this dish manages to mimic the feeling and textures of eating mac and cheese in a way that is surprisingly close to the real thing.
A caveat: When it comes to mac and cheese, people have strong opinions about "the real thing." Please don't make this expecting it to taste exactly like your favorite version of the classic – it definitely won't. Unless, of course, your favorite version happens to be one that will give you delicious pumpkin-scented mouthful after creamy mouthful, with just a hint of sage and some caramelized onions thrown in for good measure.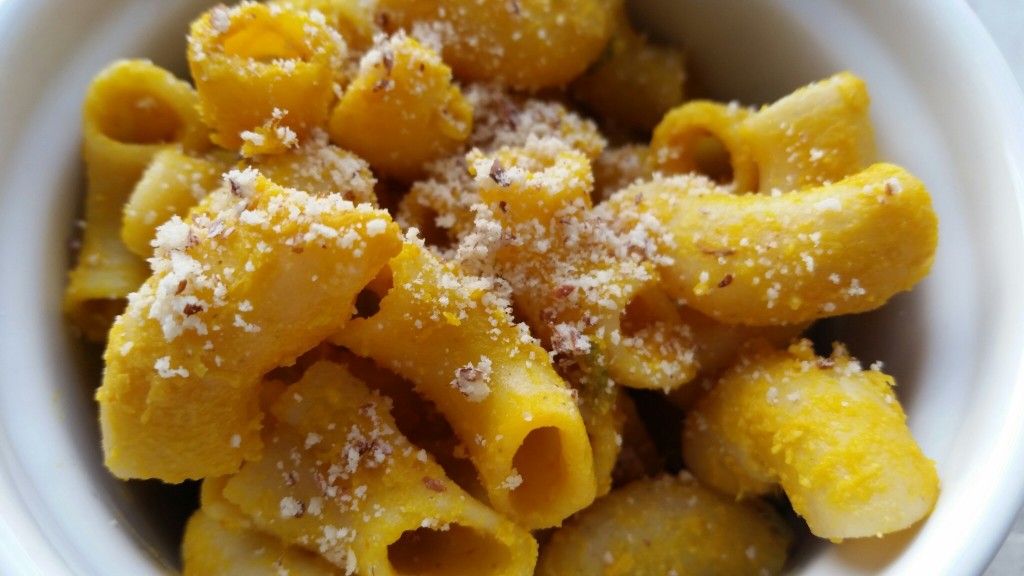 So why does this cheeseless pumpkin mac and cheese taste like cheesy mac and cheese? A couple reasons:
Red Palm Oil – If you aren't familiar with red palm oil, check out its entry on my pantry page. I think it's mandatory in this recipe, because it really gives the mac a buttery taste. However, please, please, please, buy a brand that is sustainably sourced! There are horrible things going on (both in terms of the environment and human rights) in the name of red palm oil.
Umeboshi Vinegar – If you've checked out some of the other recipes on my blog, you've probably heard me mention umeboshi. It's a Japanese condiment made from pickled plums that helps give food a deep savoriness that is definitely needed here! Umeboshi vinegar is made from the same fruit as umeboshi paste, which I detail in my pantry page, and use in my Zesty Kasha recipe.
Egg – Dropping an egg into freshly cooked steaming pasta and whisking furiously is one of my all time favorite things to do. The egg will form a creamy sauce that can then be spiced up with other seasonings or vegetables. If I feel like eating cheese, sometimes I'll add some parmesan too. It's a lighter (and more protein-packed) way to eat an alfredo-reminiscent pasta – you get a creamy sauce without the heavy cream or bechamel. In this recipe, the creaminess of the egg adds bulk to the mac and helps it achieve a cheesy mouthfeel.
But don't take my word for it – try it out! I'm curious to see whether you think this pumpkin-scented, fall-inspired recipe tastes as much like mac and cheese as I do; I'd love to see some comments!
A couple notes about the recipe:
-I use the Quinoa Harvest brand of gluten-free pasta when I make this. This pasta has only two ingredients: organic corn flour and organic quinoa flour. I find that it does a great job mimicking the taste and texture of regular pasta. I recommend cooking it in plenty of rapidly boiling salted water, adding a bit of oil when you add the pasta, and stirring occasionally.
-You can obviously make this dish with whatever brand of pasta is your personal favorite (whether it be gluten-free or gluten-laden). However, please note that this recipe calls for an 8 oz box of pasta, so if your pasta box is larger, remember to either scale up the recipe or only cook an 8 oz portion.
-I used canned pumpkin puree for consistency of texture – I'm not sure what the results would be if you were to use fresh, since fresh pumpkins don't yield uniform purees.
-This recipe is nut-free if you skip the sprinkling of almond meal on top!
Dairy-Free Pumpkin "Mac and Cheese"
2 slightly rounded tablespoons red palm oil, sustainably sourced
½ large onion, sauté sliced
2 cloves garlic, minced
½ teaspoon celtic sea salt
1 tablespoon minced fresh sage
1 ¼ cups pumpkin puree
2/3 cup vegetable broth
2 teaspoons umeboshi vinegar
1 large egg
An 8 oz box of your favorite gluten-free pasta
Almond meal, for sprinkling (optional – omit for nut-free)
Directions: 
Heat the oil in a skillet over medium heat. Add the onion, and cook for about 8 minutes, stirring frequently, until soft and starting to brown. Add the garlic and salt and cook for 1-2 minutes more. Next, add the pumpkin puree, fresh sage, vegetable broth, and umeboshi vinegar. Mix well, bring to a generous simmer, and let cook for about 3 minutes, until mixture has thickened slightly. Consistency should remind you of a nice cheese sauce.
Cook the pasta according to package directions. Be sure that your pumpkin sauce is finished before you drain your pasta. Return the pasta to the pot immediately after draining and crack the egg directly into the pot. Whisk vigorously with a fork – the heat of the pasta will cook the egg and form a creamy sauce. (You may want to do this over a low flame if your egg doesn't seem to be cooking). Once your egg has transformed into a creamy sauce (1-2 minutes of vigorous whisking), add the pumpkin mixture and mix well. Enjoy as is or spoon into 10.5 oz ramekins, sprinkle with almond meal, and bake at 350 for about 10 minutes.