Sometimes you gotta change it up a bit. Basil pesto is great – no argument here. But we've now reached the part of summer where it is HOT. And that means I need something a bit zingier – something with more freshness, more brightness. Because I'm sure as hell not going to find that in the swampland that is NYC right now.
Are you with me? Good. You should be. Because this pesto is yumtastic. Or yumtacular. Or whatever your favorite made-up compound superlative conveying deliciousness happens to be. Bright and grassy, it has a complexity of flavor that you don't often get with a standard pesto, where everything hits you all at once. Taste  a spoonful of this, and your first impression will be fresh, lemony, and zingy – then the flavor will begin to evolve, giving way to something much fuller, richer, and creamier. If you are used to using raw garlic in your pestos, you'll notice that the sautéed chives lend a flavor that is deeper, subtler, less abrasive, and more complex. Those delicious chives will begin to strut their stuff, and you'll marvel at how such a small stalk  – when given the proper treatment – can bloom and blossom into a full-on umami symphony.
Or  – since not everyone is as food-obsessed as I am (you guys, I just typed the phrase "umami symphony"), you'll just be like: "Mmm, this is yummy. I should put it on pasta."
And indeed you should.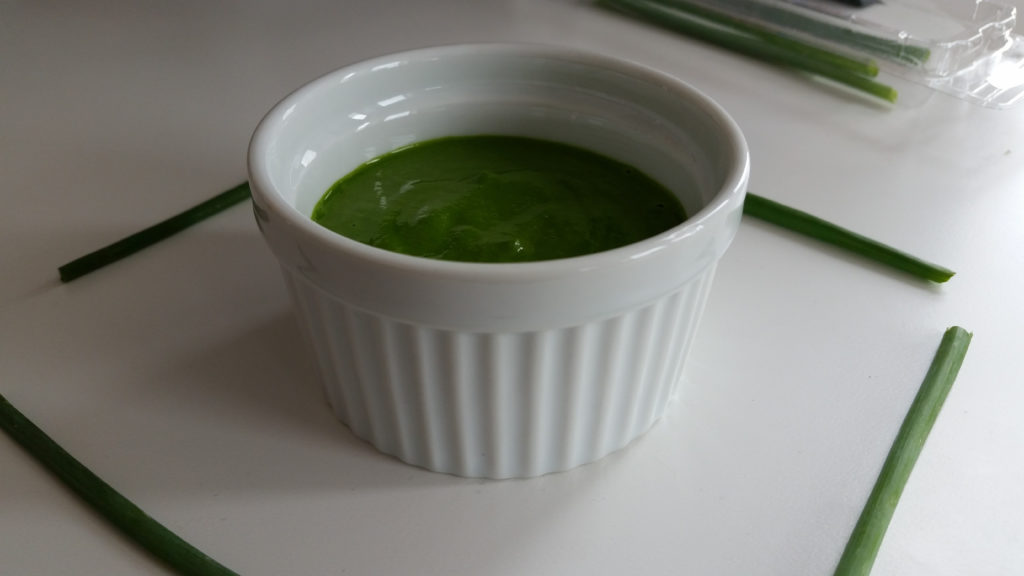 A couple notes about the recipe:
-This pesto has a saucier texture than your traditional pesto – it is very smooth and creamy. As such, it's also great as a pizza sauce, salad dressing, or grain and veggie bowl topping.
-If you are vegan or dairy-free, this is still pretty tasty without the parmesan – the lemon will actually be even more forward. It will not be as rich and creamy, though. You will also probably need to increase the salt, if you choose to omit the cheese.
-If you are using the cheese (recommended if you can eat it), this recipe will force you to buy a block of parmesan – not the pre-grated kind. The flavor is much better when you buy it in block form!
-You can mix this pesto into a pot of steaming hot pasta and enjoy it right away but you can also put the dressed pasta in the fridge and enjoy it cold. Both ways are lovely!
-This recipe will make about 1 cup of pesto
Lemony Chive and Spinach Pesto
4 cups packed baby spinach (5 ounces)
1/3 cup chopped chives (.5 ounces)
¼ cup + 2 tablespoons good quality extra virgin olive oil
1 tablespoon + 1 teaspoon freshly squeezed lemon juice
¼ teaspoon celtic sea salt (increase if omitting the cheese)
lots of freshly ground pepper, to taste
¼ cup parmesan cubes, from a block of parmesan cheese (omit for vegan/dairy-free)
Directions:
Heat 1 tablespoon of the olive oil in a small sauté pan and add the chives. Give them a quick sauté over high heat – 1-2 minutes – until they've shrunken to about 1 tablespoon.
Blend the spinach, sautéed chives, reserved 1/4 cup + 1 tablespoon oil, lemon, salt, and pepper in a Vitamix or other high-powered blender until smooth. (You will need to use the tamper.) Add the cheese, increase the speed, and blend until smooth and creamy.