I used to always eat tofu one way: stir-fried with sesame oil and tamari. And it was always delicious, which is perhaps why I never considered getting out of the Asian flavor profile realm until the past couple of years or so. When it's not broke, don't fix it — right?
Well, sesame oil and tamari are still my go-to seasonings when making a quick tofu stir-fry, but lately I've also gotten really into other flavor profiles. After all, tofu is one of the most versatile ingredients out there – it will soak up whatever flavors you create! It also lends itself to a variety of cooking techniques beyond the classic stir-fry: from boiling, to baking, to deep-frying. (If you've never tried boiled tofu, be sure to check out my Asian Tofu Salad!) Anyway, I started experimenting with other flavor profiles for my tofu when I got into morning tofu scrambles like this spicy one, which kicks it up a notch with some Indian spices. Then came baked tofu of all different types – with one of my favorites being this super savory lemongrass variety. Baked tofu takes a little bit more time than a stir-fry, because it does require pressing to get that optimal baked tofu texture that lends itself to topping sandwiches and salads. (See why you don't have to press your tofu for stir-fries.) But it's still pretty darn easy to make and awesome to have on hand in the fridge for when you want a quick salad topper, sandwich-filler, or just a satisfying, protein-packed snack.
This recipe is also a great jumping off point for you to do some experimentation with different spice combos and create your own signature tofu. Because once you make baked tofu once, you'll definitely want to make it again.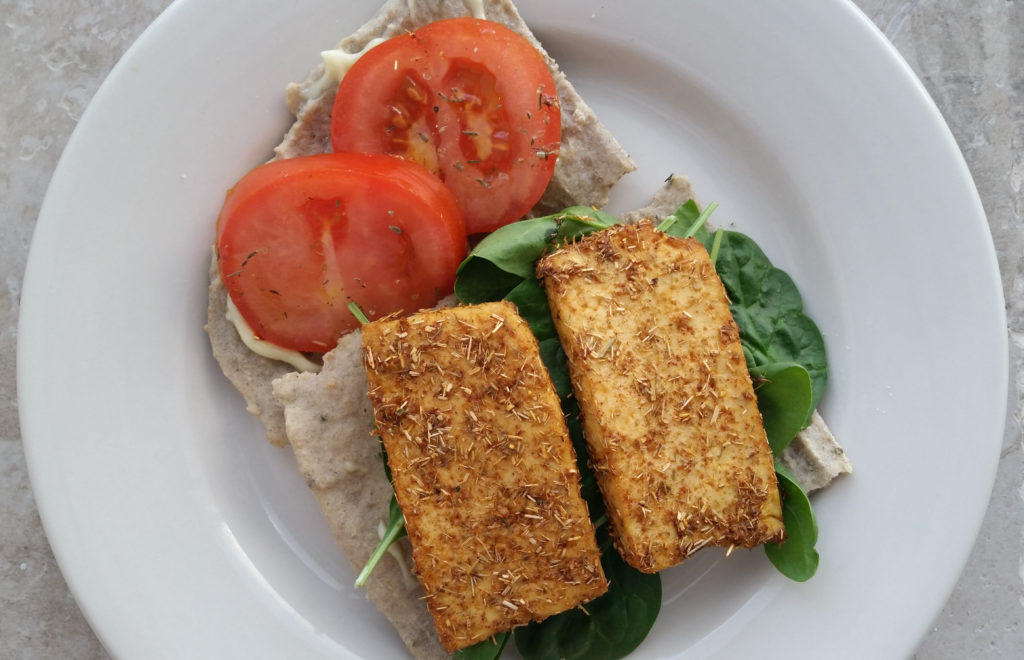 A couple notes about the recipe:
-Celtic sea salt tends to be less salty than other salts, so you will want to reduce the salt content if you are using a different salt. You will also want to adjust the salt content depending on whether you are planning to use the tofu for sandwiches/salads or for eating plain. The salt content specified in the recipe is ideal for sandwiches/salads.
-I've tagged this recipe as both an entree and a side because it could be either. Serving it over some mixed greens, in the middle of your favorite gluten-free bread, or with a side of mashed sweet potato makes an easy entree, but you could also serve it as a side-dish.
Lemongrass Baked Tofu
1 14-oz cake extra-firm tofu
2½ teaspoons dried lemongrass
1¼ teaspoons celtic sea salt
¾ teaspoon paprika
¾ teaspoon hot paprika
¼ teaspoon ground cumin
¼ teaspoon ground coriander
½ teaspoon dried thyme
3 tablespoons olive oil
1 teaspoon freshly-squeezed lemon juice
Directions:
Drain tofu and cut into horizontal slabs – between ¼ – ½ inch in thickness. (I usually end up with 8-10 slabs.) Line a sheet tray with kitchen towels and/or paper towels and place the tofu slabs a couple inches apart on the lined tray. Cover the tofu with more kitchen towels and/or paper towels (if you used kitchen towels on the bottom, you can fold them over the top of the tofu.) Place a couple of very heavy pots on top of the covered tofu and let press for 30 minutes.
Meanwhile, combine the lemongrass, salt, paprika, hot paprika, cumin, coriander, thyme, and salt. Stir in the oil and lemon until a paste is formed.
When tofu is almost done pressing, preheat the oven to 400° F and line a sheet tray with parchment paper. Coat both sides of the pressed tofu with the spice paste, rubbing it in with your hands, and bake on the paper-lined tray for 20-25 minutes.
Store cooled tofu in a sealed ziplock bag in the fridge.