Lapsang Souchong is a deliciously rich and smoky Chinese black tea that is fantastic for both cooking and drinking. Since it's a black tea, it also carries with it all those lovely black-tea health benefits – antioxidants, heart-healthy compounds, etc. – though, since the tea is smoked over pine leaves, I do find myself wondering whether the antioxidants survive. Tea experts, please chime in! My google searching has proved inconclusive (nobody is talking about this on the internet, apparently) and I'd love to know what affect the smoking process has on a tea's health benefits.
In any case, I can say with certainty (albeit certainty subjective to my own taste preferences) that the smoking process has a beneficial affect on the taste of this tea. If you've never tried it, you really must – I playfully call it the Laphroaig of teas since its smoky, intense, complexity reminds me of a bacony scotch.
This makes it a perfect ingredient for sauces and marinades, as it lends this complexity of flavor to the simplest of dishes. Seriously – you'll be amazed at how easy these carrots are to prepare. Simply mix a 5-ingredient marinade together, pour it over some carrots, and bake until tender. That's it! Serve them over your favorite grain with a poached egg or some baked tofu for a simple, delicious meal or leave them as is for a lovely side dish. You really can't go wrong.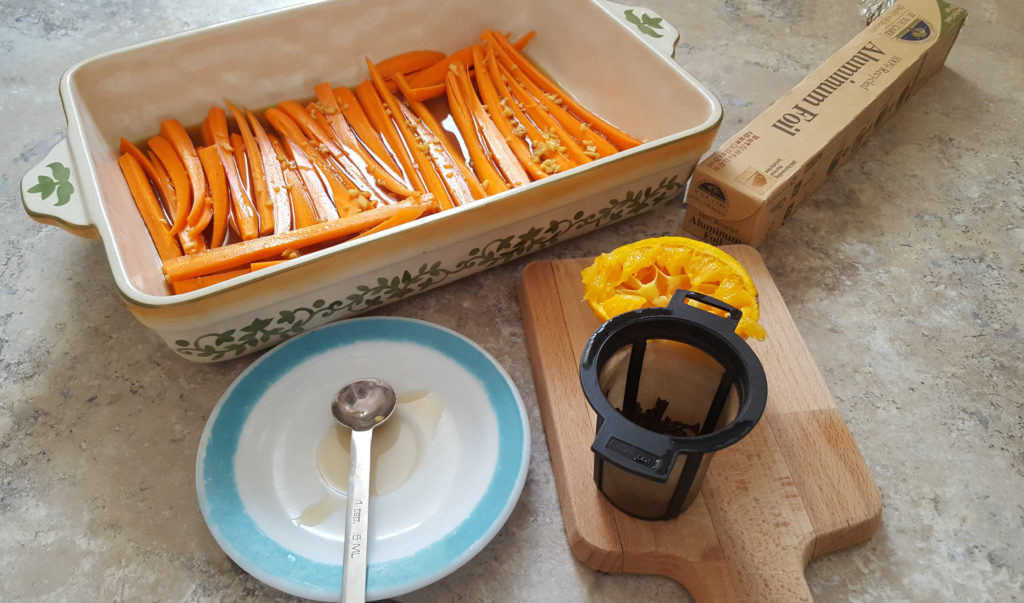 A couple notes about the recipe:
-This marinade is completely customizable. Feel free to play with it and have fun! Want to add in some chili paste? Be my guest! Like it a little saltier? Up the tamari! Think some sesame oil might be nice? Go for it! I kept things simple with this one, but there is definitely room for lots of flavor-playing :p
-I have tagged this recipe under Low FODMAP because black teas – to a "strong" strength – are considered low FODMAP at a serving size of 1 teacup. However, I don't know anything about the FODMAP content of lapsang souchong in particular, or if there is a significant difference in FODMAP content between "strong" and "very strong."
Lapsang Souchong Carrots
1 pound carrots, peeled and cut into thin sticks
¾ cup very strong brewed lapsang souchong tea***
3 tablespoons freshly-squeezed orange juice
2 teaspoons freshly-minced ginger
1 tablespoon + ½ teaspoon gluten-free tamari
pinch of 5-spice powder
Sea salt, for sprinkling (optional)
Directions:
Preheat the oven to 400° F. Combine the tea, ginger, orange juice, tamari, and 5 spice powder. Lay the carrot sticks in a casserole dish large enough so that all the carrots can be more or less in a single layer. Pour the marinade over the top. Cover with aluminum foil and bake for about 20 minutes, until carrots are tender. Then uncover and bake about 15 minutes more, until some of the marinade has evaporated and carrots are perfectly cooked. Taste, sprinkle with sea salt if desired, and serve.
***To brew your very strong lapsang souchong: Combine 1 heaping teaspoon of tea with 8 ounces of boiling water and steep, covered, for 10 minutes.