I can't believe I've almost made it through the whole summer without sharing a recipe for deviled eggs! One of my all-time favorite picnic foods, they are a staple in our household, especially in the warmer months. And if I'm looking to use up some fresh herbs that might not make it much longer or create some much-needed space in the fridge by clearing out the bottom of a condiment jar, it's deviled eggs to the rescue! They lend themselves to so many different flavor and texture combinations that I could probably snack on them every day and not get bored. Wasabi deviled eggs? Check. Crispy chive deviled eggs? Check again. Pickled okra deviled eggs? Oh yeah.
I could go on for a while here, but I'll limit myself to talking about this week's snack of choice – harissa deviled eggs. If you've been a regular reader of this blog, you'll know that harissa is one of my go-to ingredients. I always have it on hand because it's just so darn delicious! The brand I buy is heavy on the tomatoes, and is similar to a spicy sundried tomato tapenade – which, incidentally, could be subbed for the harissa in this recipe. If you do decide to go get some harissa for these eggs, check out my Spicy Harissa-Chickpea Burger, Quinoa Superfood Salad with Harissa-Sesame Dressing (excuse the photos – this was one of my first posts), and Baked Eggs with Lambsquarters and Harissa. Trust me, you'll have no trouble using it up!
Anyway, let's talk some more about these deviled eggs. They are seriously addictive – creamy yolks, subtle heat, and a bright pickle-induced crunch that pops out at you every once in a while to remind you what's what. Hungry yet?
Oh – speaking of those creamy yolks, my #1 secret for delicious deviled eggs is to use more yolks than whites. This means you'll never skimp on the delicious filling that is the very definition of a deviled egg, but you also won't have to be heavy-handed with the mayonnaise to make sure your filling doesn't run out. That's right – I like my deviled eggs light on the mayonnaise and heavy on the flavor!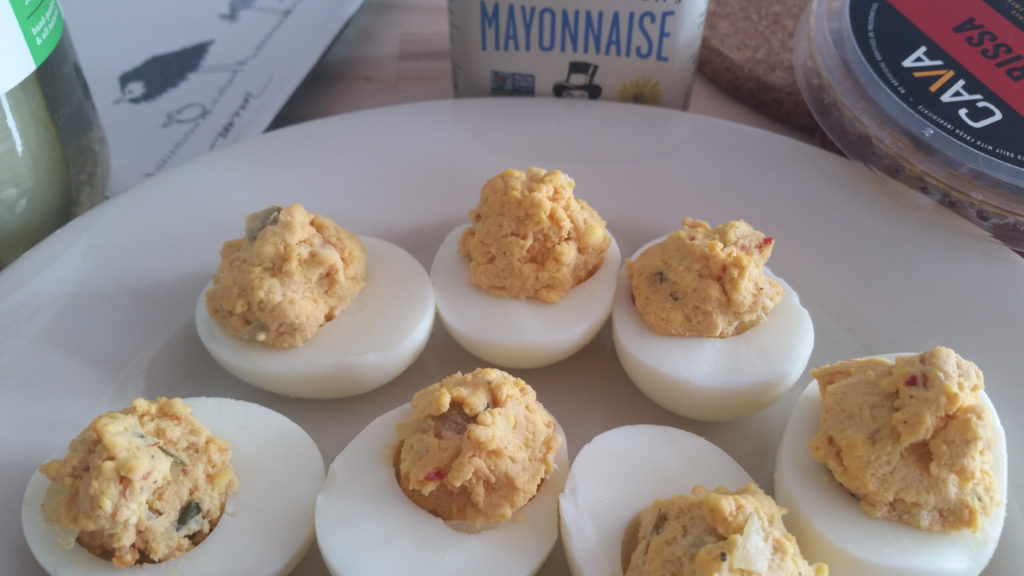 A couple notes about the recipe:
-I used Cava harissa and Kensington mayonnaise for this recipe. This combo resulted in a perfectly seasoned deviled egg, without the need for additional salt. However, depending on your brand of condiments and personal preference, you may need to adjust the quantities and/or seasoning.
-Perhaps the most arduous part of making deviled eggs is the actual hard boiling and peeling of the eggs. My tried-and-true method is basically a combination of these two how-to articles, which I recommend to any hard boiled egg enthusiast:
You'll notice that these methods are fairly similar, with a couple differences:
Method #1 has you remove the pan from the burner after the water reaches a rolling boil; method #2 has you leave the pan on the burner but turn off the heat. My preference: Leave the pan on the burner.
Method #1 doesn't mention adding salt to the cooking water to make the eggs easier to peel. My preference: Add salt.
Method #2 doesn't mention cracking the eggs slightly after cooking, which makes the eggs easier to peel. My preference: Crack 'em!
(Don't worry, I'll explain exactly how to boil the eggs in the recipe below – but I wanted to give credit where credit is due!)
Harissa Deviled Eggs
8 large eggs
1 tablespoon + 1 ½ teaspoons mayonnaise
1 ¼ teaspoons harissa paste
1 tablespoon finely chopped sour pickles
Paprika or hot paprika (optional), for garnishing
Place eggs in a single layer in a saucepan. Cover with about 2 inches of cold water, add a bit of salt (this makes the eggs easier to peel) and bring to a rolling boil. Turn off the heat, cover, and let stand on the burner for about 12 minutes. Drain, rinse quickly with cold water, then crack each egg in a couple places (again to make peeling easier) and submerge in ice water (or keep rinsing in cold water) until cool enough to peel.
Cut each egg in half lengthwise, and scoop the yolks into a bowl. Add the mayonnaise and harissa paste to the yolks and mix well. Stir in the chopped pickles. Divide the filling into 12 of the egg halves (refrigerate or eat the four remaining halves), loosely mounding it so the filling appears nice and high. Sprinkle with paprika or hot paprika, if desired. Enjoy!