August is winding down and I'm amazed that another summer has passed by so quickly. Last August, I managed to take a week-long vacation in Rome, and – floored by the sheer variety and quality of gluten-free options there – I wrote up a blog post with some highlights. Yet somehow, I never got around to posting it. So, on the one year anniversary of my trip (as I sit here wishing I was happily munching away in a Roman trattoria), I'll content myself with remembering ….
Note: A version of this story is published on Celiac Travel, a wonderful resource for gluten-free travel!
When I told friends and family I was planning to spend eight days in Rome, I was met with the same reaction every time: but what will you eat? Indeed, Italy – the land of pizza, pasta, and pastries – would seem at first glance to be a tricky destination for those of us who can't stomach gluten.
I wasn't overly concerned, since I would be living in an apartment with a kitchen and close to a grocery store; if I had to survive on eggs, veggies, cheese, beans, and – for those on-the-go hunger attacks – a stash of Larabars brought from home, so be it.
It's a shame not to eat out when there are so many great Roman restaurants, though. So I did some preliminary research about gluten-free options and found a few places that fit the bill. What I couldn't have imagined until I arrived was just how easy it would be to eat gluten-free!
Restaurants advertising "Senza Glutine" (pronounced "GLU-teen-ey" and literally meaning "without gluten") or "prodotti per celiaci" were everywhere. While I initially tried to document them all, I soon realized there were too many to count. I also saw vegan gelato, quinoa-curry pasta (at a natural foods store), soy cappuccinos at a few bars — even almond milk. This was quite a change from the Italy I remembered from 2008, where it was a struggle to find any food at all that wasn't strictly traditional Italian. (Granted, I had visited a less metropolitan city than Rome.)
But back to gluten-free. Man, does Rome have us beat. Here are four reasons why:
The taste and texture is so good that you forget you're eating gluten-free
First, and perhaps most importantly, everything I tried was absolutely delicious. There was none of the gumminess, graininess, or dryness that you sometimes find when you buy something labeled "gluten-free" in the US. In fact, I had my gluten-eating husband taste everything I ordered and he was shocked, telling me that if he hadn't already known he was tasting something gluten-free, he'd never have guessed.
There is no stigma and no judgment
When you order gluten-free in a restaurant in the US, you often get a look. Not all the time, but often enough for me to always mention it apologetically and sometimes not at all, if I'm 99 percent sure what I'm ordering doesn't contain gluten. In Rome, there was no judgment whatsoever. Restaurants that offered gluten-free options would even ask if you wanted your dish prepared senza glutine or normale before you even brought up the topic. Most also made a point to differentiate anything gluten-free from the rest of the order by sticking a flag in the middle of it or serving it on a transparent plate. You were never left wondering if the waiter had forgotten that you had ordered gluten-free and you never had to flag your server down and check, a practice that often prompts judgement and annoyance on the part of a U.S. big-city waiter and rightly so: they are busy and shouldn't have to reassure you at every turn.
Menus are clearly and accurately labeled, which makes ordering gluten-free easy
Dining out in New York and other places in the US, I've noticed that there is often a lack of knowledge about what is or isn't gluten-free. Menu labeling is confusing or inaccurate, leaving you forced with no choice but to ask a lot of questions, and then engage in a game of telephone where if you're lucky, the waiter actually checks with the kitchen instead of just giving you a "yeah, I'm pretty sure" response. Having to go through all that trouble makes everyone's experience – diner, server, and kitchen – worse. In Italy, the labeling was usually crystal clear:  at several restaurants, the menus listed dishes with two prices – a normale price and a senza glutine price. This meant that you could literally order anything off the menu gluten-free.
You don't feel like you are missing out or have limited choices
As mentioned above, several restaurants had menus where every dish was available either gluten-free or normale, quite a change from the U.S. Sure, we have restaurants where everything is gluten-free, but then your gluten-eating friends are forced to eat just like you, and pay the mark-up to beat. In restaurants that cater to all eaters, gluten-free diners generally have a limited selection. It was nothing short of magical to be able to sit down at a restaurant and have the exact same options as everyone else!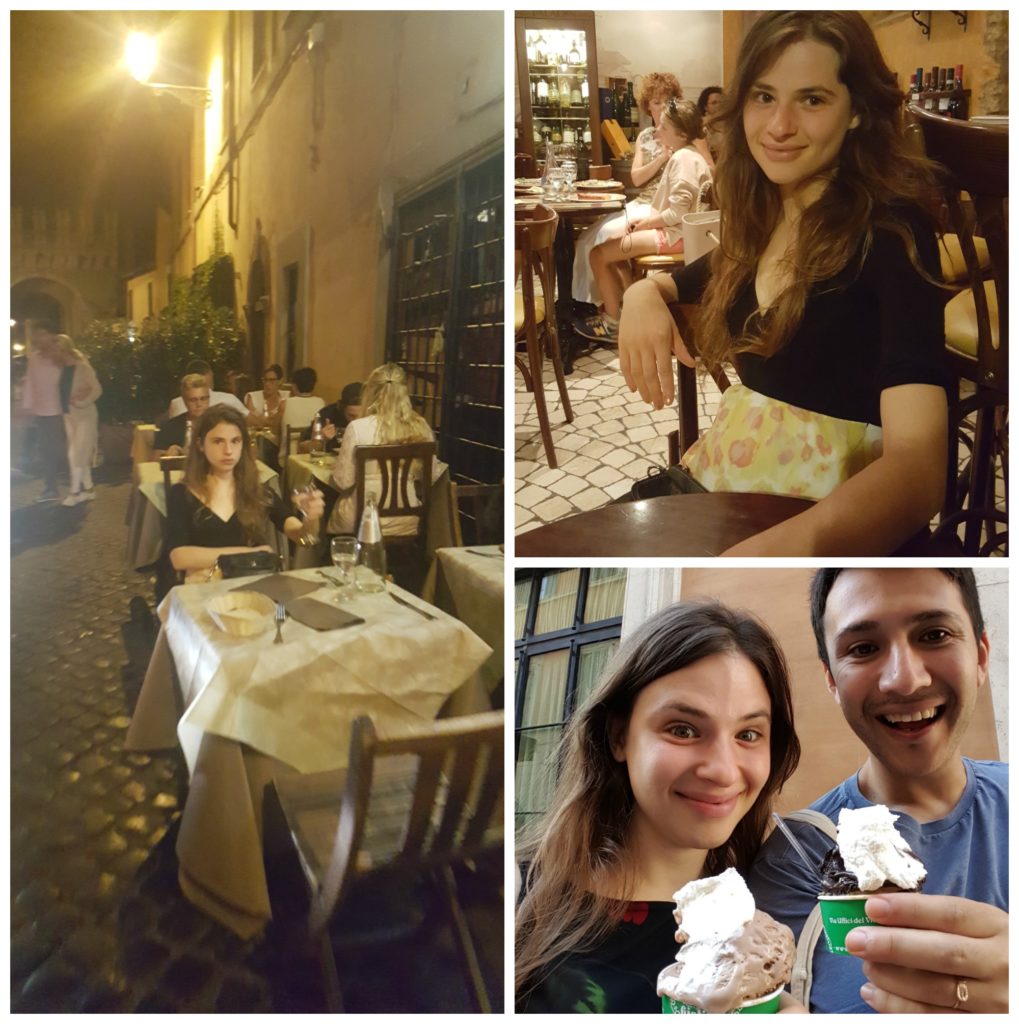 Okay, so here's a list of some of the restaurants I checked out during my stay in Rome, in case you are gluten-free and planning a Roman vacation!
1. Il Tulipano Nero, Via Roma Libera, 15 
Located in the Trastevere district, a hopping section of Rome with a ton of restaurants, street vendors, and musicians,  Il Tulipano Nero features, without a doubt, the best gluten-free pizza I have ever eaten. Trastevere itself is fairly touristy, and reminded me a bit of the area around Española Way (South Beach, Miami) but there are also definitely parts of it that have a more local feel. Il Tulipano Nero isn't exactly free of the touristy feel – to the best of my knowledge, none of the restaurants in Trastevere really are – but it also wasn't at the heart of the party. We were waited on by two older Italian men who gave the place a relaxed and friendly vibe, and didn't try to switch to English (as they did in many more touristy places) when I ordered in Italian.
While I was initially dismayed to find I'd accidentally ordered a pizza sans marinara sauce, La Bufalina tasted like heaven on a plate. Pachino (Sicilian) tomatoes gently treated with olive oil and fresh basil sat atop oodles of sour buffalo mozzarella on a crisp, perfectly-seasoned, buttery crust that has forever changed my opinion of white pizzas. The interplay of the milky, sour mozzarella and the sweet, freshness of the tomatoes (you haven't had a tomato until you've had a Pachino tomato!) was enough to put me in severe gush mode and I probably talked about this pizza for longer than I care to admit. We finished off the evening with gelato from the well-respected  Fatamorgana, although I preferred the gelato at Fiordiluna, also relatively close by.)
2. La Soffitta Renovatio, Piazza del Risorgimento, 46/a
Close to the Vatican, this restaurant also caters to tourists, with higher prices than many. However, the interior was quiet and cool, the service was relatively attentive (in comparison to many other restaurants in Italy where the waiter leaves you alone for 45 minutes at a time) and the gluten-free bucatini was so good that I thought it was homemade.
It wasn't – I asked – but the waiter was kind enough to bring out the brand and tell me where to buy it (the pharmacy, of all places!) The brand is BiAglut, and it is made from corn, potato, and lupini beans!
Have you heard of lupini beans? I sure hadn't. Apparently, they are traditionally eaten in the Mediterranean and Latin America, and are extremely high in protein. However, they may trigger an allergic reaction in people who are allergic to peanuts. Crazy, right? In addition, lupini beans are incredibly labor intensive to prepare – they have to go through a "debittering" process to remove both bitter taste and also  toxins, which otherwise can cause lupini posioning symptoms like lethargy and blurred vision –  and, according to The Medical Journal of Australia, even death! Yikes! So here's hoping the people at BiAglut are treating their lupini beans properly – I brought back several bags of the amazing pasta and certainly do not plan to limit my consumption of it :-)
3. Taverna Barberini, Via delle Quattro Fontane, 160 
After a visit to the Borghese Gallery (highly recommended – get the audioguide!), I was absolutely famished. Taverna Barberini is about a 20-minute walk from the galleries, and I wasn't looking forward to waiting an additional hour after our arrival to actually get our food, something to which I'd grudgingly grown accustomed. To add insult to injury, I didn't see anything gluten-free on the menu. I asked the waitress, who promptly returned with some gluten-free bread and the promise that I could order anything off the menu gluten-free. The gluten-free bread made my day, since it meant I wouldn't have to wait an hour to appease my hunger pangs. My husband and I both opted for pizza since it was infinitely cheaper than the pasta, but it was just okay. While I liked the crust, which was bready and reminiscent of focaccia – it was topped with a processed-tasting, plasticky grated cheese. If you go, I suggest specifying that you want fresh mozzarella, or trying out the pasta, which I didn't do.
4. Mama Eat, Via di S. Cosimato, 7/9
The best thing about Mama East is the concept – they have two kitchens to avoid cross contamination and know how to make gluten-free diners feel cared for. Their huge menu, complete with all sorts of amazing fare generally unavailable gluten-free, was exciting to browse. But their food was uneven.
Since it's been years since I've eaten a mozzarella stick, we started with an order of those. Unfortunately, a game of Russian Roulette ensued: would you get one that was hot and delicious or would you bite into a cold center featuring a solid blog of hardened cheese? It wasn't a very fun game.
My bucatini was delicious, and quite large too! But the contorni misti we ordered– billed as a combo platter featuring a variety of delicious-sounding veggie sides – was a bunch of raw eggplant with a couple of other veggies strewn about. How it managed to leave the kitchen in that state will forever perplex.
Despite all this – I would try my luck ordering something else off their enthralling menu. Since the execution was uneven, it wouldn't surprise me if there are good nights and bad nights.
A final note:
Even in the restaurants where things went amiss, it was never the treatment of "gluten-free" that was uneven – that was, everywhere I ate, spot on. Instead, it was things like processed cheese, unevenly fried mozzarella sticks, and undercooked eggplant, that posed a problem. Go figure … who knew it was so easy to be gluten-free in Rome? Once the food arrives, that is.