Are you ready for my #1 piece of salad advice? Make your salads and dressings at home.
I can't tell you how many times I've ordered a salad at a decent restaurant, only to have it arrive with a gelatinous vinaigrette that has clearly been squeezed right out of a package. This is a huge pet peeve, right up there with icy smoothies (you can read my thoughts on that and get a decidedly NON-ICY smoothie recipe here) and tofu scrambles that try to taste like egg (I think they should taste more like this). Being presented with any of these items usually has the unfortunate result of launching a 3-minute rant, which my dining partner (who may not share my opinion that the world revolves around food) has to sit through, trying – and likely failing, possibly rightly so – to fein interest or sympathy.
Another recurring problem with ordering salad in a restaurant is that the name of your chosen salad (Ex. Portobello and Mozzarella) is, far too often, actually just the name of the garnishes that will top your huge pile of $12 lettuce. Outrage!
Hence the aforementioned salad advice. In addition to saving you heartache and cash, making salad and salad dressing is one of the best ways to start flexing your creativity muscles in the kitchen. You have a built-in platform (a pile of fresh veggies – what could go wrong?) and the flexibility to combine them any way you want. Experiment with different cooking methods (I love combining raw veg with roasted), textures (crunchy pecans, creamy goat cheese…)  and flavor profiles (sweet, sour, spicy…). Elevate your salad by taking an element and transforming it in some way: Why not coat those crunchy nuts in maple syrup and cayenne and roast them in the oven first, for example, before throwing them atop your masterpiece? Finally, make an awesome dressing. Because awesome dressings have the power to transform even ordinary salads into bowls of pure glory.
This dressing, in fact, is actually best on an "ordinary" salad. (Think romaine or kale, cucumber, carrot, hard-boiled egg (if not vegan), chickpeas, etc.) Hearty farmer-style salads, in other words.  The zestiness of the roasted nori combined with the creaminess of the hemp gives the dressing a caesar or ranch-like quality that will leave you licking your fingers. But unlike caesar or ranch dressings – which aren't generally touted for their health benefits – this one packs a nutritional punch. Hemp seeds are rich with protein, an optimal ratio of Omega-3 and 6 fatty acids, and a hefty dose of fiber. And the roasted nori adds minerals like iodine, magnesium, potassium, and selenium, to name just a few. Finally, you won't be able to tell that this dressing is dairy-free – it's as creamy and zesty as they come.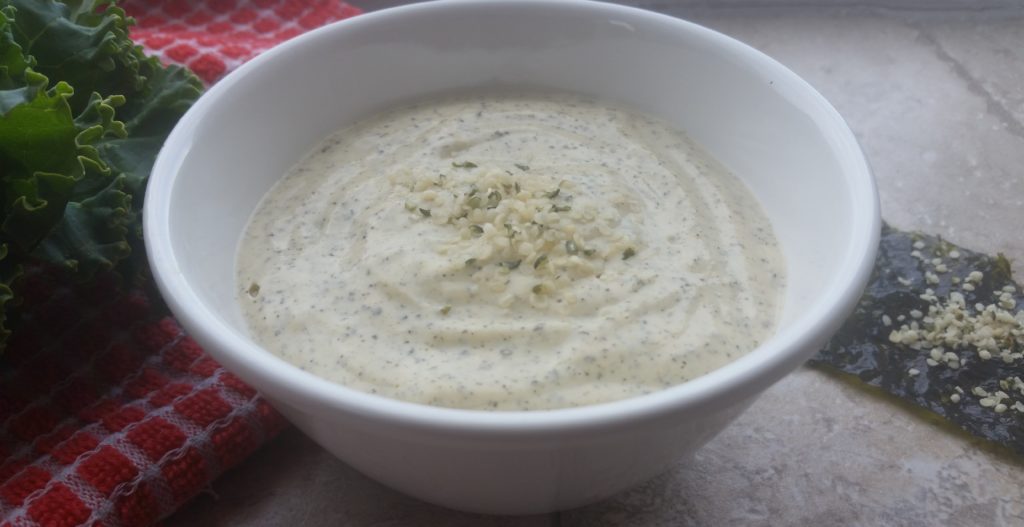 A couple notes about the recipe:
-This recipe yields 1/3 cup dressing, but can easily be doubled or tripled, if you wish.
-To soak your hemp seeds, place them in a bowl or container, cover them with water, put the lid on the bowl/container, and let sit in the fridge for 4 hours. This will enable your hemp seeds to blend up easily into a creamy dressing!
-There is a very small amount of sweetener in this dressing, and you can use whatever form you prefer. For Low FODMAP, choose the sugar option. For vegan, choose anything except honey.
Creamy Nori-Hemp Dressing
2 tablespoons hemp seeds, soaked for 4 hours, then drained and rinsed well
¼ cup extra-virgin olive oil
1 tablespoon vegetable oil (sunflower, grapeseed, etc.)
1 teaspoon Dijon mustard
2 tablespoons red wine vinegar
2  2×3 sheets roasted nori (I used SeaSnax)
¼ teaspoon celtic sea salt
½ teaspoon sugar, agave, or honey (depending on dietary preference)
Freshly ground pepper
Directions:
Place all ingredients in a high-powered blender and blend until smooth.