I was fairly shocked to see cilantro at the greenmarket last week – I mean, it's almost November, for cripes sake! Yet buy a bunch I did, with zero regrets. I love having fresh herbs in the house because they always give dinner a lift – you're only a quick blend away from a lovely dressing, dripping sauce, or drizzling sauce that will always take your meal to the next level.
This creamy dressing is one of those easy meal lifters. It, like most of my sauce recipes, is also quite versatile. You can use it to dress a salad or grain bowl, drizzled over a protein, or all over your quesadillas. In other words (for you Dr. Seuss fans) whether you eat this in a house, with a mouse, in a box, or with a fox …  you'll definitely enjoy it.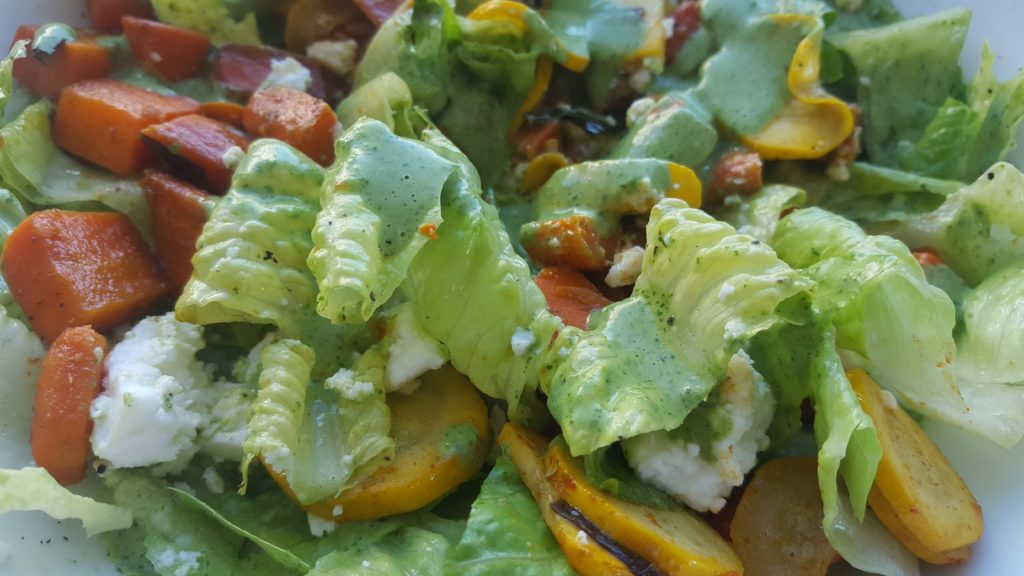 A couple notes about the recipe:
-This recipe yields a generous 1/2 cup of dressing.
-This dressing would be fantastic on my grilled polenta bites, quinoa-vegetable lettuce wraps, or Superfood bowl (in place of the basil-hemp sauce, which is also delicious!)
-The freshly ground pepper really adds a lot here – be generous!
-The mayo you use may make a difference. I've used Sir Kensington's with great results but found a Primal Kitchen brand avocado-oil mayo to be a bit too mayo-y.
Creamy Cilantro Dressing
2 cups cilantro leaves (small stems okay)
2 scant tablespoons mayo
2 tablespoons garlic-infused olive oil
2 tablespoons freshly-squeezed lime juice
2 teaspoons white wine vinegar
½ teaspoon

celtic sea salt

Lots of freshly ground black pepper
Directions:
Blend all ingredients in a high-powered blender until smooth. Enjoy over salads, grain bowls, quesadillas, etc.