Large quantities of chickpeas and garlic (two of my absolute favorite things!) are unfortunately prohibited on the Low FODMAP diet. For me, this meant going through some pretty severe hummus withdrawal.
Incredibly, I created a pretty darn good hummus substitute completely by accident, one lazy evening when I wanted pizza but had absolutely nothing in the way of typical sauce fixings. There were no tomatoes, no pesto-making herbs, and no olives for a tapenade. To make matters worse, the crust I had thrown together definitely did not lend itself to a white-pizza set-up, especially since I didn't have any cheese. As I often do in these situations, I pulled out a blender and started throwing some random stuff inside, in the hopes I could come up with something spreadable and yummy. Lentils went in, then chestnuts, then some herbes de provence, olive oil, and spices. When I tasted the concoction, I was elated. It was a complete failure in terms of being a pizza sauce,  but it tasted remarkably similar to hummus!
After dancing around the kitchen for a good half hour rejoicing over having hummus back in my life again, I had one of the worst pizzas of my life for dinner (the absence of both cheese and sauce proved devastating) and promptly abandoned it in favor of some chips and chestnut "hummus." Back to dancing – I could eat this stuff all day!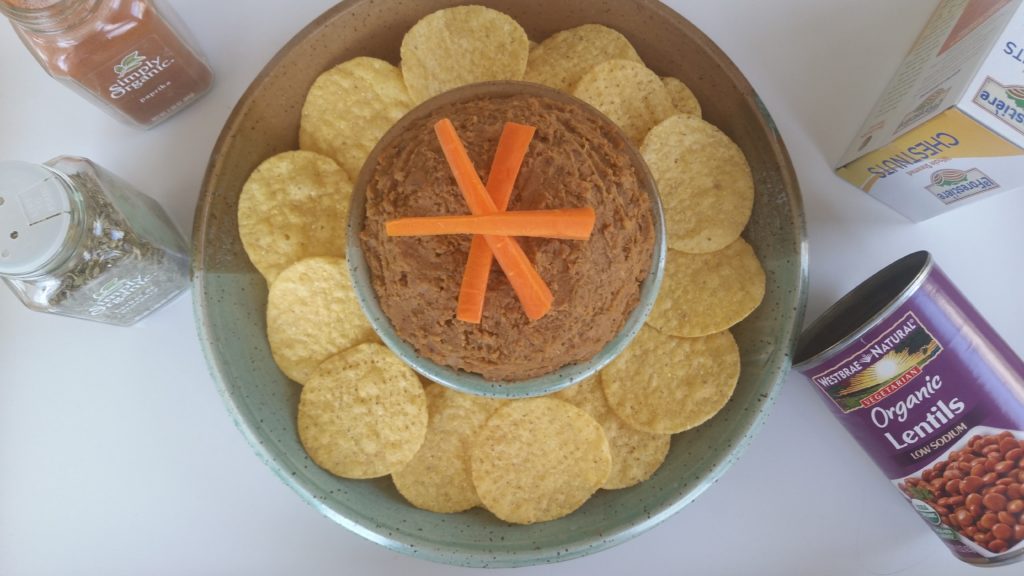 This chestnut hummus is seriously addictive. It's tangy and nutty, savory and satisfying. You can eat it with veggies and chips, spread it on sandwiches, or dollop it on top of a salad. My husband (a complete hummus fiend!) even prefers it to chickpea hummus – it's that yummy. Plus, it only takes 5 minutes to whip up a batch!
A couple notes about the recipe:
-The Low-FODMAP serving size for canned lentils is 1/2 cup per sitting (twice as much as non-canned lentils) which is why I use canned lentils in this recipe. (Before going Low FODMAP, I had never eaten canned lentils in my life!)  Similarly, the Low-FODMAP serving size for steamed chestnuts is 20 (twice as much as roasted chestnuts.) This means fellow Fodmappers can eat about half of this hummus (3/4 cup) in one sitting.  If FODMAPs aren't a concern, feel free to use packaged roasted chestnuts (considerably cheaper) for this recipe instead of steamed.
-This recipe makes 1 3/4 cups of delicious chestnut hummus.
Chestnut Hummus
1 cup canned lentils
7 ounces whole, steamed chestnuts (1 package La Foresteire, pictured above)
¼ cup + 1 tablespoon olive oil
1 tablespoon + 2 teaspoons red wine vinegar
2 teaspoons herbes de provence
¾ teaspoon celtic sea salt
1 ½ teaspoons paprika
Directions:
Place all ingredients in a high-powered blender and blend, using tamper, until everything is incorporated.