Summer is in full swing and with it comes gorgeous Farmer's Market veggies galore. This includes carrots that have not been rudely decapitated – or in other words, relieved of their feathery tops. And what a blessing that is!
Carrot tops join the ranks of underappreciated and often discarded veggie parts, along with beet greens, fennel fronds, and potato skins, among others. I'm still waiting for Chopped or some other Food Network show to do an episode that features these underutilized veggie components, all in the same round. Or maybe they have — I'm a bit behind on my Food Network binging! If they did, I hope someone made potato skin nachos with pickled beet greens, carrot top pesto, and fennel frond queso…
Anyway, back to carrot tops. Next time you find yourself with a cutting board full, please don't throw them out. Instead, make this quick + delicious, flavor-packed pesto. You'll be glad you did!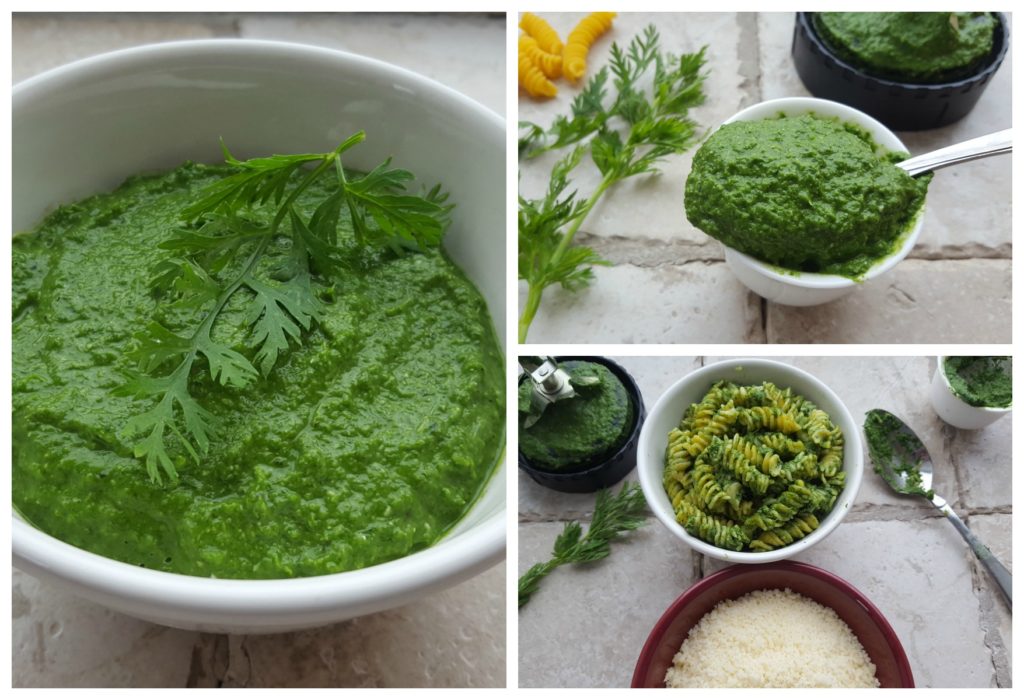 A couple notes about the recipe:
-This recipe makes 1 cup of pesto.
-In addition to pasta, try this pesto on sandwiches or dolloped in a grain bowl.
Carrot Top Pesto
Carrot tops from 2 bunches of carrots, discarding very thick or tough stems
2 tablespoons chopped chives
½ teaspoon celtic sea salt
3 tablespoons good quality finely-grated parmesan cheese
2 teaspoons hemp hearts
A generous amount of freshly ground black pepper
¼ cup olive oil
Directions:
Bring a large pot of salted water to a rolling boil. Add the carrot tops and let cook for 3-4 minutes before removing from the boiling water. Place the cooked carrot tops (you should end up with about 1 ½ cups) in a blender with the rest of the ingredients and blend until smooth. If you have any trouble blending, add a bit of the carrot cooking water. Enjoy!