Let me start off by saying that I have never been a tempeh lover. In fact, I've pretty much always been a tempeh hater. Give me tofu any day, but tempeh…yuck! No matter how many different ways it was served to me, I  always found it to have a  very strong, pungent (and sometimes bitter) flavor which was offputting, to say the least.
That is, until I discovered the secret to great tempeh: cut it THINLY, cover it with a really flavorful marinade, and roast the hell out of it! It's simple, easy, and very quick to prepare. You don't need to let it sit in the marinade, because the flavor bakes into it during the roasting process. You don't need to simmer it first (a technique we were taught in cooking school that was supposed to get rid of the bitterness – it didn't). And you don't need to bread it, or deep fry it, or sing to it, or curse it, or bless it – you just need to cut it thinly, people! There is nothing more revolting (in my humble opinion) than big, thick, scalloped chunks of tempeh. So why is it so often served that way?
I don't know the answer to that question, but I do encourage any tempeh skeptics out there to try this method of preparation, if you haven't yet. These strips are savory, salty, and satisfying. They are great on their own as a high-protein snack, or fantastic on a salad, sandwich, or lettuce wrap. I like to keep them in a ziplock bag in the fridge and munch on them whenever I feel the need for something protein-packed and delicious.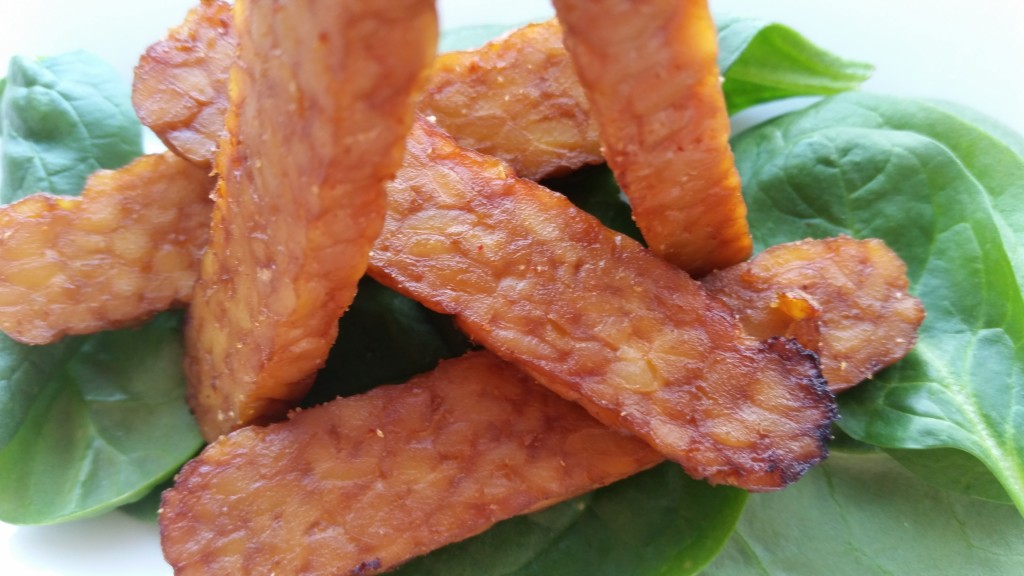 Speaking of protein,  did you know that tempeh is way higher in protein than tofu, and also much more bioavailable? This means that, because its fermented,  your body can absorb all its great nutrients much more easily!
A couple notes about the recipe:
-This recipe is grain-free if you use grain-free tempeh. Please be aware that most tempeh does contain grains – usually rice and/or barley -so if you avoid them, look for 100% Soy Tempeh. Although I'm not grain-free, I don't eat rice or barley, so I always purchase SoyBoy Organic 100% Soy Tempeh. I also like the flavor of this particular brand better than others I've tried. If you avoid GMO food like I do, be sure to purchase organic soy, since soy is a crop that is commonly genetically modified.  (I am not being compensated by SoyBoy in any way – their brand is really just my personal preference!)
–Coconut aminos is a product that is frequently used as a soy sauce/tamari substitute; I often use it in conjunction with gluten-free tamari, however, because it is sweeter and milder than tamari but still brings lots of fabulous flavor. I love how its wonderfully sweet flavor can balance a marinade, making a sugar component unnecessary. (My favorite brand here is Coconut Secret – again, not being compensated!)
-For low FODMAP, don't eat more than 3/4 cup tempeh in one sitting. Also note that the FODMAP content of coconut aminos is unknown since it has not yet been tested by Monash.
Baked Tempeh Strips
Directions:
Preheat the oven to 375°F.  Slice your tempeh into thin strips (a little smaller than 1/4 inch thick). Combine the sesame oil, tamari, coconut aminos, paprika, coriander, and cayenne in a shallow baking dish large enough to hold a single layer of tempeh strips. Place the strips into the baking dish and turn each strip once to coat it completely in the marinade. Place in the oven and bake for about 20 minutes. Enjoy!