Some food has a season, and baingan bharta is one of those foods. One of my all-time favorite Indian eggplant dishes, baingan bharta is best enjoyed at the intersection of two important external realities:
Eggplant and tomatoes are in season
Keeping the oven at 450°F for an extended amount of time doesn't make you want to kill yourself nor result in AC bills that trigger thoughts of bankruptcy.
Now, more often than not, when one of these considerations rings true, the other does not. However, thanks to this very late autumn, eggplants and tomatoes are still in abundance at the Greenmarket, even while the weather starts to turn a tad chillier. And that means – time for baingan bharta!
This recipe is Low-FODMAP, but high-flavor. Eggplant is roasted until very tender, and then the flesh is cooked with scallions, ginger, serrano, tomatoes, and the perfect blend of Indian spices. Finished with some fresh lime juice and cilantro, this is eggplant at its best.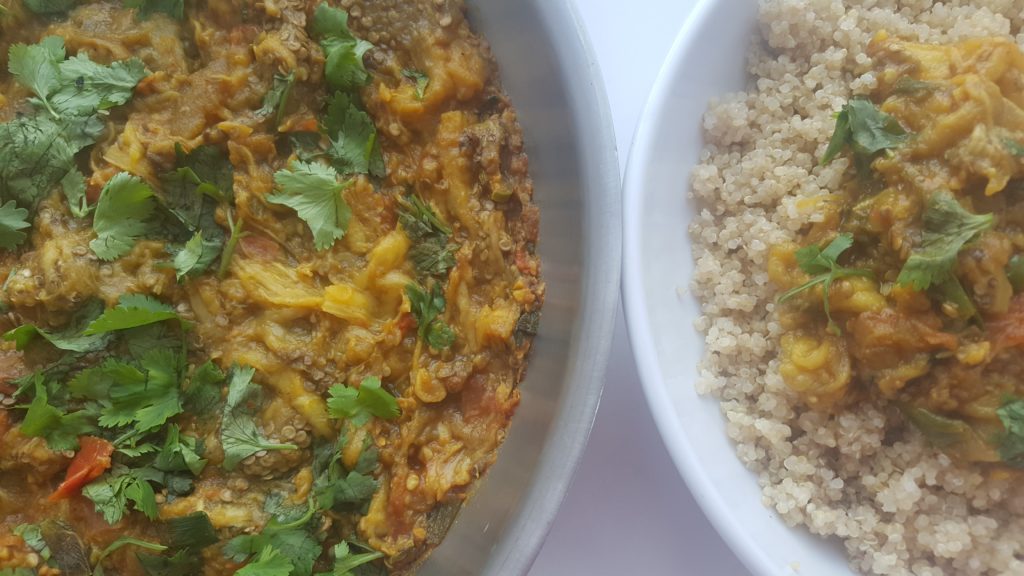 A couple notes about the recipe:
-For a complete meal, serve this over your favorite whole-grain and add in some protein – chickpeas and tofu "paneer" (cubed and pressed extra-firm tofu coated with turmeric and salt and fried until golden brown) are two of my favorites.
-This recipe makes about 4¼ cups and serves 3-4.
– Very large servings of eggplant (2¼ cups or 189 grams) are high-FODMAP, so portion control is key for Fodmappers.
-Heat level: I recommend tasting your serrano before deciding whether or not to leave the seeds in, as they can vary greatly. If you like it spicier, add more serrano or cayenne; if you like it mild, be sure to seed your serrano and go light on the cayenne.
Baingan Bharta
3 pounds eggplant (about 2 large or 3 medium eggplants)
2 tablespoons refined coconut oil, plus additional for roasting eggplant
1 teaspoon cumin seeds
1 cup chopped scallions, green part only (about 1 bunch)
1 tablespoon minced ginger
1 serrano pepper, finely chopped
2 medium tomatoes, chopped
1 teaspoon ground cumin
½ teaspoon ground coriander
½ teaspoon ground turmeric
1 teaspoon paprika
½ teaspoon garam masala
¾  teaspoon celtic sea salt, plus a bit more for sprinkling here and there
1⁄8 teaspoon ground cayenne pepper
½ teaspoon sugar
Freshly squeezed lime juice and cilantro, to taste
Directions:
Preheat the oven to 450°F and line a sheet tray with aluminum foil. Rub the eggplants with coconut oil and score them (make two shallow slits on each) to prevent any explosions. Roast on the aluminum-lined sheet tray until skin is wrinkled and eggplants are tender, about 40 minutes. Flip each  eggplant halfway through the roasting process. When eggplants are done, let them stand until they are cool enough to peel; then turn the flesh into a bowl and mash.
In a small cup or bowl, mix the spices, salt,  and sugar together. Heat the coconut oil in a skillet over medium heat. Add the cumin seeds. When they start to splutter, add the scallions and cook for 1-2 minutes. Next, add the ginger, serrano, and tomatoes. Sprinkle with  salt and cook for 5-7 minutes, until the tomatoes have completely broken down. Add the spice mixture and mix well; then add the mashed eggplant (discard any liquid that has accumulated in the bowl) and stir until it is well-coated in the gravy. Cook the eggplant for a couple more minutes, until all the flavors meld. Then taste, adjust seasoning if necessary, and finish with the freshly-squeezed lime juice and cilantro, to taste.